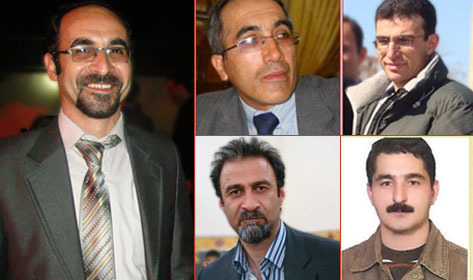 Iran Human Rights, August 15
: 13 civil society NGOs including Iran Human Rights published a joint statement concerning the
five Azerbaijani prisoners of conscience
in their fourth week of hunger strike.
The statement says:
Five Azerbaijani-Iranian prisoners of conscience who have been sentenced to 9 years imprisonment each, have been on hunger strike for the last 4th week. Hunger strikers' health has declined into a critical condition. Latif Hassani, Mahmoud Fazli, ShahramRadmehr, Ayat MehrAli Bayglu and Behboud GholiZade the leaders of the Yeni GAMOH, started an indefinite hunger strike on July 13, 2013 in Tabriz Central Prison protesting their unfair trial and mistreatment. The court upheld too harsh of sentence against these Azerbaijani activists where verdict ran counter to both human rights norms and the section 26 of constitution of Islamic Republic of Iran. Branch three of Tabriz Revolutionary Court under judge Bagherpour sentenced the five activists to nine years in prison on charges of "establishing illegal group" and "propaganda against government." The court of appeal confirmed the sentences on June 9, 2013. One of the activities of Yeni GAMOH was an open letter written to UN Secretary General concerning the constitutional right of Azerbaijanis to educate their children in their own language. Article 15 of Iranian constitution allows minorities to study in their native language. However the court regarded this as "propaganda against government." It has now been 26 days since these activists launched a hunger strike. On the eighth day, Tabriz Prosecutor's Office Mr. Khalil Olallahi exiled the hunger strikers from Tabriz to Tehran. However, Evin Prison authorities in Tehran refused admitting the prisoners due to their severe health condition. After a day of solitary confinement in Evin Prison, activists were moved to Rajae-Shahr Prison in the city of Karaj. According to family members, activists were tortured during their transfer from Tabriz to Tehran. They were left in the hot summer weather for several hours in Tehran while they were already suffering from several serious illnesses caused from their torture during their interrogation periods. "The strikers spent a day and a half in handcuffs and shackles inside the metal room of the transfer van under the direct sun heat of Tehran. The general situation of these prisoners is worsening day by day, and today Mahmoud Fazli had stomach bleeding in quarantine of RajaeShahr prison. Their physical condition is in such a crucial state that some of them refuse to disclose their exact situation out of concern for their families", said a family member. Of course this is just an example of injustice against Azerbaijani activists. Dozens of such human rights violations are taking place in Azerbaijan on a daily basis. Among them; Saeed Matinpour, Azerbaijani journalist has been sentenced to eight years of prison, after four years in prison, he has been deprived of furlough. In addition, Shahrokh Zamani has been sentenced to long imprisonment, and also Younes Aghaian has been sentenced to death because of his activities towards protection of religious rights of "Ahl-e Hagh" minority group. Each year hundreds of them receive unfair trials and are subject to arbitrary detention.
We, the undersigned, demand the immediate release of these prisoners. We draw the attention of all to the human right abuses against ethnic groups and religious minorities. All protests against wide variety aspect of discrimination: political, economic, social, and cultural rights are repressed brutally. We call on the international community to respond to this issue, also we ask the hunger strikers to end their hunger strike.
08 August 2013 1. Abdorrahman Boroumand Foundation 2. Ahwaz Human Rights Organization (AHRO) 3. Arse Sevom 4. Association for Human Rights in Kurdistan of Iran- Geneva (KMMK-G) 5. Baluchistan Human Rights Organization 6. Center for Supporters of Human Rights (Chaired by Nobel laureate Shirin Ebadi ) 7. Centre for Combating Racism and Discrimination against Arabs in Iran (CCRDAI) 8. Committee of Human Rights Reporters (CHRR) 9. European Ahwazi Human Rights Organization (EAHRO) 10. Iran Human Rights (IHR) 11. Justice for Iran NGO 12. Kurdish Human Rights Association 13. Kurdish Human Rights Network