The Execution Wave in Iran: 30 Executions in 2 Weeks
April 23, 2014, 12:10 a.m.
The execution wave has resumed in Iran. In the last two weeks at least 30 prisoners have been executed, among them four juvenile offenders. Iran Human Rights, April 22, 2014: A 24 year old man was hanged in the Vakilabad prison of Mashhad (Northeastern Iran) on Monday April 21. He was convicted of a murder allegedly committed in 2010, reported the Iranian daily newspaper Khorasan. The same newspaper reported about execution of two other prisoners on Sunday April 20. These prisoners were a 20 year old man and a 32 year old man both convicted of murder in two different cases. One of the prisoners is believed to be the juvenile offender Ebrahim Hajati whose execution was reported earlier by Iran Human Rights (IHR).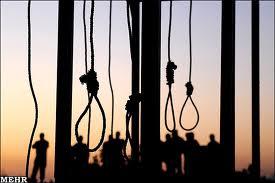 According to reliable sources in Iran, five prisoners were hanged in the prison of Rajai Shahr of Karaj (west of Tehran) early this morning April 22. These prisoners are identified as Seyed Farhad Mollahasani, Akbar nobakht, Davoudi Sahraei, Ali Asghar Kavakabi and Hormoz Rezaei, all convicted of murder and sentenced to qisas (retribution). Al Arabiya reported about execution of six Afghan citizens in Iran. Quoting Afghan sources in the Takhar Province of Afghanistan, the report said that these prisoners were convicted of drug related charges. The executions are believed to have taken place on Friday April 18. The group "Human Rights and Democracy Activists in Iran " (HRDAI) reported that eight prisoners were executed in the Ghezelhesar prison of Karaj. Five of these prisoners were identified by name. IHR is investigating the details about these executions. IHR has also reported executions in Saveh , Kermanshah and Bandar Abbas during the past two weeks.