Nine Prisoners Hanged in Southwestern Iran Today
May 12, 2014, 8:44 p.m.
Iran Human Rights, May 12, 2014: Nine prisoners were hanged in the southwestern Iranian city of Ahwaz today, reported the official website of the Iranian Judiciary in Khuzestan province (Southwestern Iran). All the prisoners were convicted of possession and trafficking of drugs, said the report. The prisoners were identified as: 1. L. B.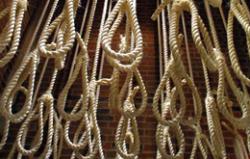 2. M. T. 3. A. A. 4. H. R. K. 5. A. Kh. 6. M. J. 7. A, Gh. 8. M. Gh. 9. M. Gh. Details of the charges are described in the Farsi page of Iran Human Rights. The charges have not been confirmed by independent sources.