Executions for "Moharebeh" and "Corruption on Earth" in 2018
March 6, 2019, 9:25 p.m.
Iran Human Rights (IHR); March 6, 2019: A part of the 11th Annual Report on the Death Penalty in Iran, by IHR, deals with the charges of executions in 2018. In this article, "Moharebeh" and "Corruption on Earth" are discussed.
READ THE FULL REPORT HERE (pdf)
Many offences are punishable by death in Iranian law. However, murder (qisas), Moharebeh and Corruption on earth, rape/sexual assault and drug-related charges were the most common charges used against those executed in 2018.
It is important to emphasize that lack of due process of law, unfair trials, forced confessions, the use of torture and the political nature of the Iranian judicial system are all major problems that must be kept in mind when analysing the use of the death penalty in Iran. Therefore, the charges shown below are solely based on the official charges by the Iranian authorities and have not been confirmed by independent sources.

Executions in 2018 based on charges: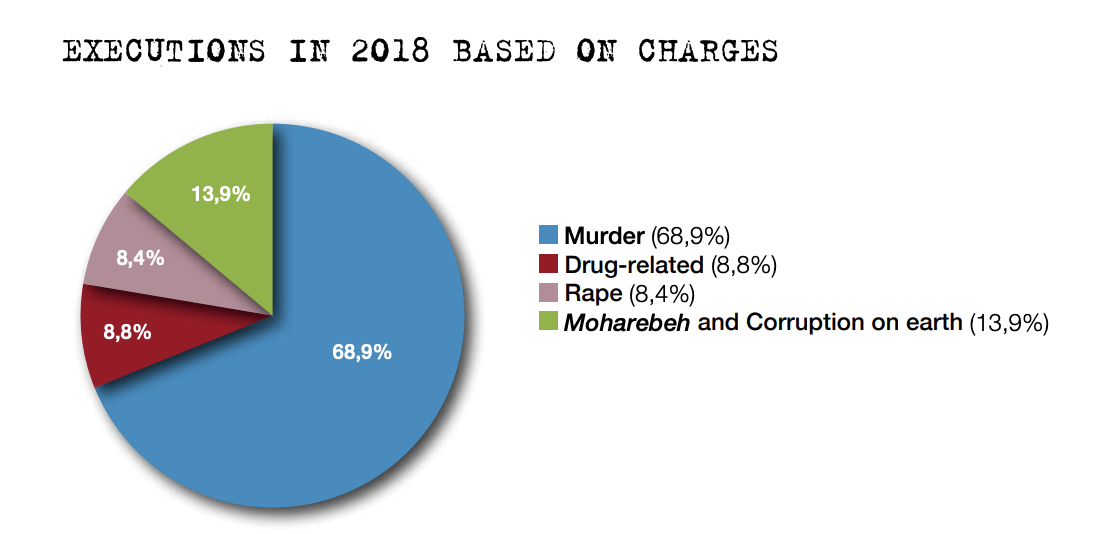 The chart above shows what charges were used for executions in 2018. For the second time in a row in the past eight years, murder charges account for the majority of executions in 2018.
Murder charges were the most common charge used for implemented death sentences, counting for 69% of all executions. Drug charges were used for 8% of all executions in 2018 and represent the biggest change compared to the previous years. Drug offences counted for 88% of executions in 2011, 76% in 2012, 48% in 2013, 49% in 2014, 66% in 2015, 56% in 2016 and 46% in 2017.[1] Moharebeh and corruption on earth were the second most common charges and were used for a variety of offences.
Charges, such as murder and rape, are tried by the Criminal Courts while Moharebeh, corruption on earth and drug charges are processed by the Revolutionary Courts.
In the following section, we will describe in more detail at the executions based on the charges and look at some cases.
Executions for Moharebeh, Corruption on Earth and Rebellion in 2018
Due to their vague definition, the charges of "Moharebeh" (waging war against God) and "Ifsad fel Arz" or "Corruption on Earth" are used for a wide range of offences. Furthermore, there is considerable subjectivity as regards issuing these charges which are handled by the Revolutionary Courts.
Corruption on earth has been used by Revolutionary Court judges, particularly in cases where a death sentence would otherwise be difficult to justify based on other charges and available evidence.
Ahmadreza Djalali, who worked at the Karolinska Institute in Stockholm, was arrested during a visit to Iran in April 2016 on charges of "collaboration with a hostile state". After a trial in branch 15 of the Revolutionary Court in Tehran, he was convicted of espionage and sentenced to death in October 2017.[2] He is currently in poor health condition.
In January 2018, Houman Jokar, Sepideh Kashani, Niloufar Bayani, Amirhossein Khaleghi, Sam Rajabi, Taher Ghadirian, Abdoreza Kouhpayeh, and Morad Tahbaz, members of a local environmental group, the Persian Wildlife Heritage Foundation have been arrested. On October 24, 2018, Abbas Jafari Dolatabadi, the Tehran prosecutor, said at a press conference that [MRA1] four of them face the charge of 'sowing corruption on earth,' which includes the risk of the death penalty, claiming that the activists were 'seeking proximity to military sites with the cover of the environmental projects and obtaining military information from them.'[3]
In 2018, at least 38 people were executed under Moharebeh and corruption on earth charges. This is twice as many as in 2017 when 19 people were executed for such charges.
Among those executed for Moharebeh and Corruption on earth charges, one can find people with affiliation with Kurdish political parties, religious minorities and victims of Iran's new policy to fight against economic corruption.

Some facts about those executed for Moharebeh and Corruption on Earth charges:

38 executed for Moharebeh, Corruption on earth and rebellion charges
32 executions were announced by official sources
5 were hanged in public
1 was reportedly the leader of a spiritual group
3 charged with economic corruption
8 charged with cooperation with ISIS
18 people were executed charged with armed robbery
3 charged for membership in banned Kurdish groups
3 charged for membership in banned Baluchi groups
Cases of Moharebeh and rebellion for political affiliation
Loghman and Zanyar Moradi:
Kurdish political prisoner, Loghman Moradi and Zanyar Moradi, were executed on the morning of September 9, 2018, at Rajai Shahr prison in Karaj.[4]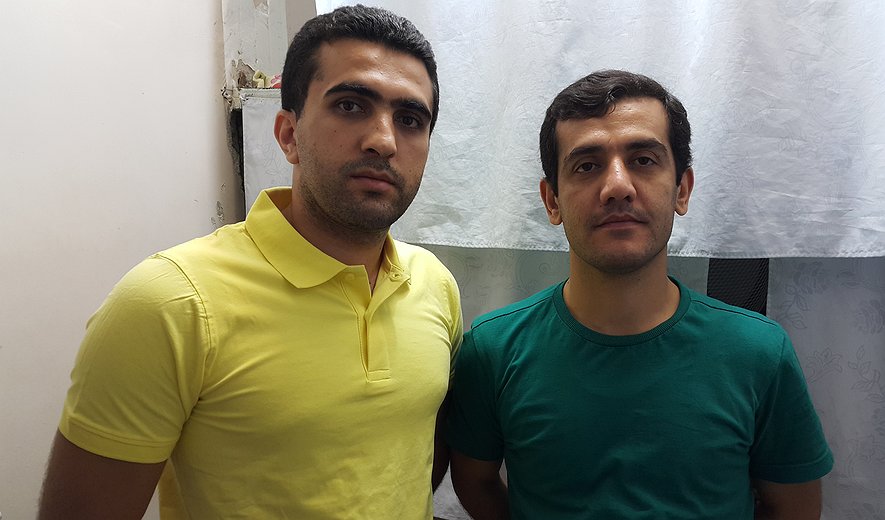 Zanyar Moradi and Loqman Moradi were arrested in Marivan by the agents of the Ministry of Intelligence of Sanandaj in July 2009. After a few months, they were sent to Branch 15 of the Revolutionary Court of Tehran, presided by Judge Salavati, where they were sentenced to public execution on the charge of "Moharebeh through action against national security, being a member of Komalah party, assassinating the son of Marivan's Imam of Friday Prayer, spying for Britain, disturbing security at the time of the presence of the Supreme Leader in Marivan".
Zanyar and Loghman revealed later that they were under severe physical and psychological torture to confess.[5]
According to a statement by Ahmad Shaheed, the former UN Special Rapporteur for the human rights in Iran issued in March 2012, "Zanyar and Loghman Moradi were compelled to confess to allegations of murder after being severely beaten and threatened with rape." The statement also says: "… no evidence or witnesses were brought against these men, and that they did not have reasonable access to their legal counsel."[6]
Despite the fact that only a piece of evidence in Loghman and Zanyar's case was their confessions extracted under torture, and they had emphasised on torture for years, their execution verdict was upheld by Supreme Court. Loghman even presented witnesses that at the day of the assassination, he was at a small city 35 Kilometers far from the location. Moradis' lawyer, Saleh Nikbaht, told BBC Persian: "No weapon seized from them… In contrary to the law, no crime scene reconstruction report was present in the case… There were witnesses who confirmed that Loghman was in Sarvabad City, 35 Kilometers far from the crime scene at the day of event... I have defended hundreds in several courtrooms and had never seen such a case."[7]
The bodies of Zanyar and Loghman were buried at an undisclosed location without informing the family.
Ramin Hossein Panahi: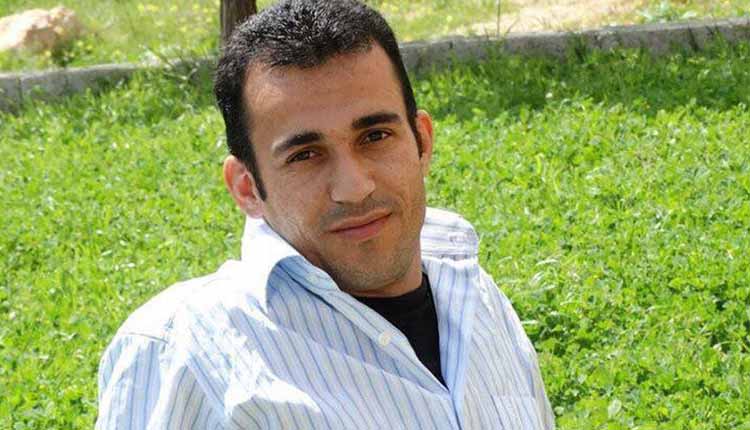 Iranian Kurdish political prisoner Ramin Hossein Panahi was executed on September 8, 2018.[8] Ramin was shot and arrested by the Revolutionary Guards on Friday, June 23, 2017. The Revolutionary Guards claimed that he was armed while his family rejected the claim. Ramin was transferred to Sanandaj Central Prison on January 9, 2018, after 200 days in solitary confinement of the Intelligence Organization of Iranian Revolutionary Guards Corps (IRGC) and the Ministry of Intelligence. He was sentenced to death in the first session on the charge of "rebellion against the regime, acting against the national security, and being a member of Komala Party of Iranian Kurdistan." The Revolutionary Court of Sanandaj sentenced Ramin Hossein Panahi to death on the charge of rebellion against the Islamic regime in January 2018.[9] His execution was upheld by branch 39 of the Supreme Court on Tuesday, April 10[10] after which his lawyer requested a retrial. According to Ramin's lawyer Hossein Ahmadiniaz, he was not informed by the authorities about the scheduled execution of his client as it is required by the law and Ramin's appeal process was not finished when he was executed. Ramin's body was not handed over to the family after the execution and it was buried at an undisclosed location. On 19 April 2018, UN rights experts had called on Iran to annul death sentence against Ramin Hossein Panahi.[11]

Corruption on earth and rebellion for cooperation with ISIS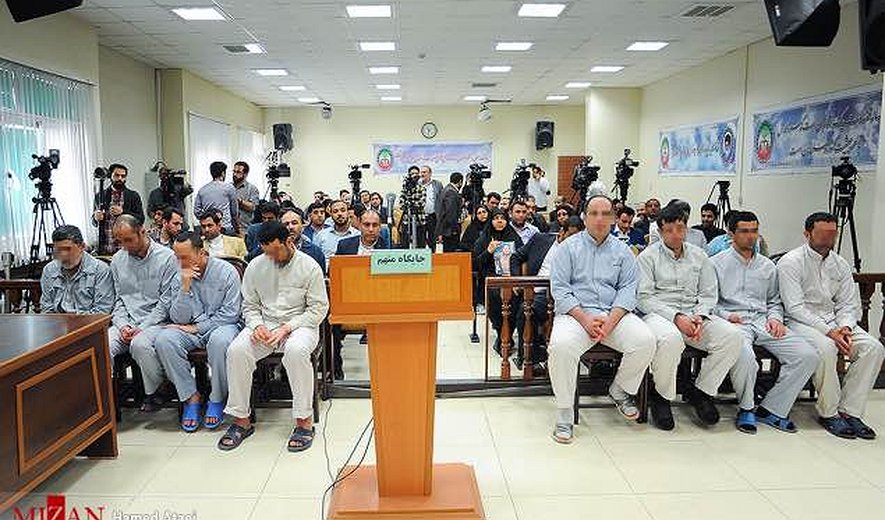 On the morning of Saturday, July 7, 2018, eight prisoners who were charged with Corruption on earth and rebellion (Articles 286-287 of IPC) and convicted for participation in the 2017 Isis attacks in Tehran were executed.[12] None of the official reports mention the execution site, however, since the prisoners were held at ward 209 of Evin prison, it is most possible that their execution was carried out at Evin Prison. The prisoners named as Soleiman Mozafari, Esmail Sufi, Rahman Behrouz, Seyyed Majed Mortezai, Sirous Azizi, Ayyoub Esmaili, Khosro Ramezani and Osman Behrouz.[13]
The prisoners were arrested after the 2017 terrorist attacks on Tehran's parliament and the shrine of Ayatollah Ruhollah Khomeini. However, according to several reports, some of those executed were not directly involved in the attacks and were sentenced to death on the charge of having information about the operation and, in some cases, providing the attackers with logistic support.
There is no information regarding the process of the interrogation, hearing, and trial of those prisoners. It is also not clear if the defendants had any lawyers or public defenders.
Corruption on earth for economic corruption and fraud
Following the 2018 Iranian currency collapse, Iranian Supreme Leader Ali Khamenei approved a request by the judiciary to set up special courts to deal with so-called financial crimes on August 11, 2019. Khamenei wrote in his letter to Sadegh Amoli Larijani, the head of judiciary, that punishments for those accused of economic corruption should be "carried out swiftly and justly."Economic Corruption Courts are the newest subdivision of Islamic Revolutionary Courts and are eligible to try all suspects, including "official and military" people. The sentences can include the death penalty.[14]

Vahid Mazloumin, Mohammad Esmaeel Ghasemi and Hamid Bagheri Dermani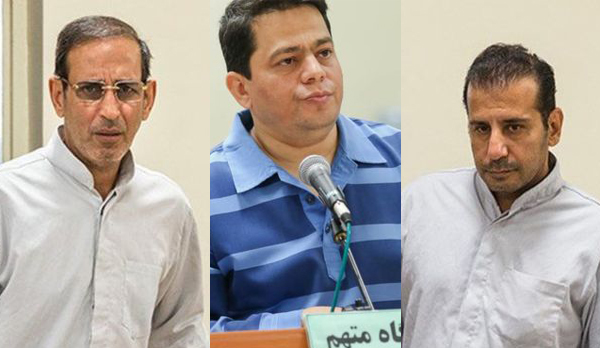 On November 14, 2018, Vahid Mazloumin and Mohammad Esmaeel Ghasemi were hanged on economic corruption charges in Tehran. Mazloumin, dubbed the "sultan of coins" by Iranian media, was a trader accused of manipulating the currency market. Mazloumin was allegedly caught with two tons of gold coins, according to the Iranian Students' News Agency (ISNA). Ghasemi was part of Mazloumin's network and had been involved in the sale of gold coins, Mizan reported.[15]Hamid Bagheri Dermani,[16] a businessman known by the State-run Iranian media as the "Sultan of Bitumen", was executed Saturday morning, December 22, on alleged economic corruption charges.
Hamid Bagheri Dermiani's case was initially processed by the newly established anti-corruption court but later sent to the Revolutionary Court where he was charged with "spreading corruption on earth" and sentenced to death in October 2018.
Iranian Supreme Court upheld Bargheri Dermani's death sentence quickly after the verdict was issued. Two other prisoners, Dariush Ebrahimian Bilandi and Younes Baha'd-dini, are sentenced to death on similar charges in Fars province and might be executed in the near future.[17]
Corruption on earth for establishing a fake spiritual group
Karim Zargar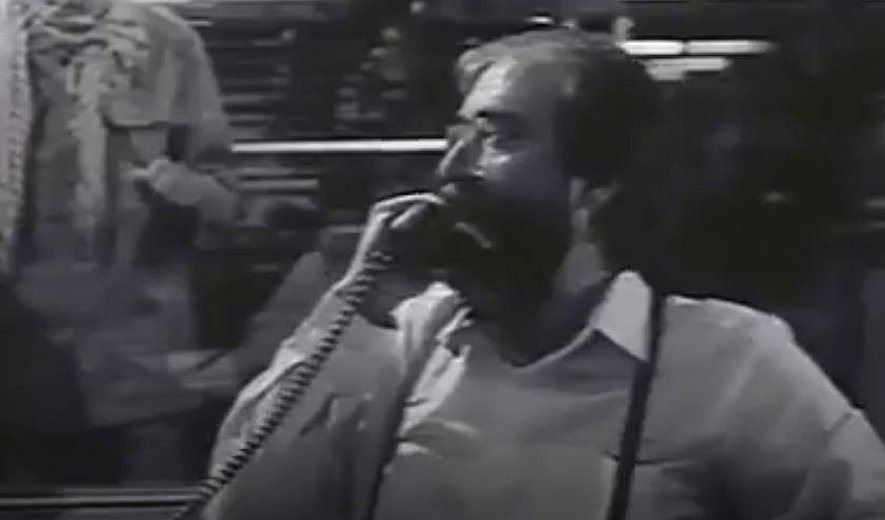 Early 2018, Karim Zargar, the former general manager of IRIB's international section, Iran TV's channel one broadcast manager, head of the Faculty of Radio and Television, and owner and managing director of Film Reports magazine (Gozaresh-e-Film), was hanged at Rajai Shahr Prison. He was convicted to death by judge Salavati at branch 15 of the Revolutionary Court on the charge of Corruption on earth for establishing a "fake spiritual institution." His lawyer, Vahid Moshkan Farahani, told IHR that in contrary to Iranian law, even the date of carrying out the verdict was not informed to the lawyer. It seems he was hanged because of his spiritual beliefs that were against the official religious reading of Islam by the Iranian authorities. He was also charged with rape and sexual abuse of some of the attendees in his classes, charges which are believed to be constructed by the authorities to reduce the public pressure. The whole legal process leading to this execution was non-transparent, like many other cases in the Revolutionary Courts.[18]
References:
[1] Iran Human Rights annual reports on the death penalty: https://iranhr.net/en/reports/#/
[2] https://iranhr.net/en/articles/3102/
[3] https://www.theguardian.com/world/2018/oct/24/iran-charges-five-wildlife-activists-capital-offences-spying
[4] https://iranhr.net/en/articles/3476/
[5] https://iranhr.net/en/articles/3472/
[6] https://iranhr.net/en/articles/815/
[7] http://www.bbc.com/persian/iran-45490264
[8] https://iranhr.net/en/articles/3475/
[9] https://iranhr.net/en/articles/3212/
[10] https://iranhr.net/en/articles/3276/
[11] https://www.ohchr.org/en/NewsEvents/Pages/DisplayNews.aspx?NewsID=22959&LangID=E
[12] https://iranhr.net/en/articles/3381/
[13] http://www.irna.ir/fa/News/82963881
[14] https://www.rferl.org/a/iran-s-supreme-leader-approves-special-corruption-courts/29427873.html
[15] Mizan online news agency, November 15, 2018: https://goo.gl/PqS8sD
[16] https://iranhr.net/en/articles/3594/
[17] https://iranhr.net/en/articles/3549/
[18] https://iranhr.net/en/articles/3228/