Execution of Ethnic Minorities in Iran in 2022
April 28, 2023, 12:25 p.m.
This is an extract from the 2022 Annual Report on the Death Penalty in Iran in 2022.
As this report and previous annual reports demonstrate, ethnic minorities in Iran are overrepresented in death penalty statistics. Furthermore, with 39 executions per million inhabitants, Sistan and Baluchistan province had the highest number of executions per capita in 2022. According to the present report, 130 people were executed in the 4 ethnic provinces of W. Azerbaijan, E. Azerbaijan, Sistan and Baluchistan, and Kurdistan in 2022. This is more than double the number in 2021 (62), and in 2020 (60).
However, given that the execution of ethnic minorities are not implemented exclusively in their home provinces, it is difficult to specify the exact number of each ethnic minority groups' execution. On the other hand, information about those executed does not always include their ethnicity. The execution of Baluch prisoners are in many cases carried out in prisons outside the Baluchistan region.
The important point to note is the secrecy of the executions in these four ethnic provinces. Of the executions confirmed by Iran Human Rights in those regions, only ten (8%) were announced by authorities, compared to 12% in the whole country. Roughly 92% of executions in the four provinces (and 88% throughout Iran) in 2022 were carried out without even a report published in media outlets inside Iran (see diagram).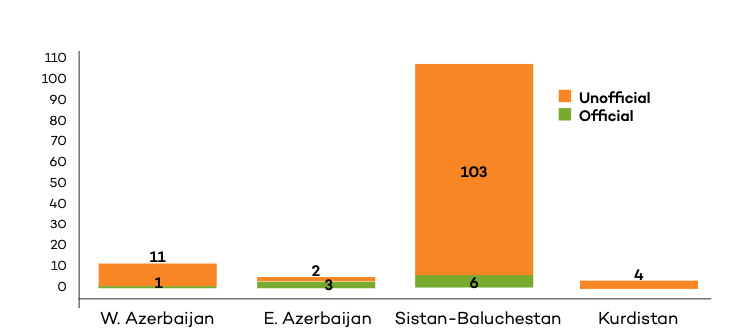 In 2022, more than 92% of the executions reported by Iran Human Rights in East and West Azerbaijan, Kurdistan and Sistan and Baluchistan were not announced by the authorities. This is significantly higher than the 88% unannounced execution for the whole country.
It is thus safe to say that an unprecedented level of secrecy in executions is taking place in the Iranian ethnic regions. On the other hand, the absolute majority of those executed for their political affiliation belong to ethnic groups, the Kurdish minority in particular. An overview of Iran Human Rights reports between 2010 and 2022 shows that among the 138 people who were executed, were charged with affiliation to banned political and militant groups, there were 71 Kurds (51%), 38 Baluch (28%) and 21 Arabs (15%). It is important to note that most of those executed from these ethnic groups were Sunni Muslims.
There may be several reasons for the overrepresentation of ethnic groups in execution figures. The authorities use more violence to create fear due to higher opposition amongst the population in those regions, might be one explanation. During the nationwide protests following Jina Mahsa Amini's murder in custody, Kurdish regions and Baluchistan were the areas with the most long lasting protests, and almost half of all protesters killed on the streets were from Baluchistan, Kurdistan and other Kurdish towns in other provinces. The authorities' targeted propaganda labelling its critics in the ethnic regions as separatists as well as the presence of armed groups in those regions make it easier for authorities to justify death sentences under the pretext of fighting terrorism and separatist groups. All this has led to less domestic and international sensitivity to the execution of people from ethnic regions, and thus, a lower political cost for the atrocities. Finally, with these regions already suffering from poor socio-economic conditions, local judicial offices also act more lawlessly and arbitrarily in the four ethnic provinces.
Execution of Baluch minorities
With 109 executions, Sistan and Baluchistan province had the highest number of total executions, and with 39 executions per million inhabitants the province with the highest number of executions per capita in 2022. There are no official figures for the population of Baluch minorities in Iran, but different sources estimate the number to be between 1.5[1] and 4.8 million[2], accounting for 2-6% of Iran's total population. However research and monitoring by Iran Human Rights shows that in 2022, at least 174 Baluch prisoners were executed, accounting for 30% of all executions in Iran. This is a rise from 21% (70) in 2021. 66 of the 174 executions took place in prisons outside Sistan and Baluchistan province. The gross overrepresentation of Baluch prisoners in the execution figures in Iran has led to reactions by rights groups and the international community.[3]
Facts about Baluch executions in 2022:
174 Baluch minorities were executed, accounting for 30% of the total executions in 2022
121 were executed for drug-related offences, accounting for 47.3% of all drug-related executions
52 were executed on murder charges (qisas)
3 of those executed were Baluch women
Only 4 of the executions were officially reported
13 executions were secretly carried out
Executions took place in 22 different prisons compared to 10 in 2021
[1] https://iranprimer.usip.org/blog/2013/sep/03/iran-minorities-2-ethnic-diversity
[2] https://unpo.org/members/7922
[3] UN Experts Alarmed Over Execution of Baluch Minority Prisoners: https://news.un.org/en/story/2021/02/1083772