The prisoners are slowly pulled up by a crane in front of the horrified citizens. Iran Human Rights urges the international community to put pressure on the Iranian authorities to stop public executions.
Iran Human Rights, November 18, 2014: A video footage showing the
public executions of last Saturday (15. November) in Bandar Abbas
has been released by the "human rights activists news agency" (HRANA).
The video shows three prisoners with the noose around their neck being slowly pulled up by a crane. This happens in front of tens of ordinary people.
See the video footage here (18+).
The method has been previously described by Iran Human Rights (IHR) as slow strangulation where the prisoner suffers several minutes before the death occurs due to suffocation. There are several videos of public executions showing that this method is being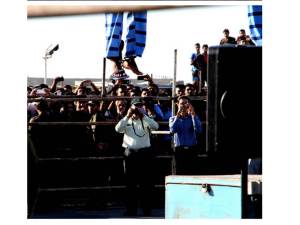 systematically used by the Iranian authorities. In some cases it takes up to 15 minutes till the prisoner dies.
IHR strongly urges the international community to react in order to stop the public executions in Iran. Mahmood Amiry-Moghaddam, the spokesperson of IHR says: "Besides being a dehumanizing and barbaric punishment, Iranian authorities' method of execution is pure torture. The prisoner dies a slow and painful death in front of the horrified children and adults. The international community must not tolerate such barbaric punishments in a country which is a full member of the United Nations.
During the last Universal Periodic Review (UPR) session on October 31 several countries recommended Iran to immediately stop the public executions.