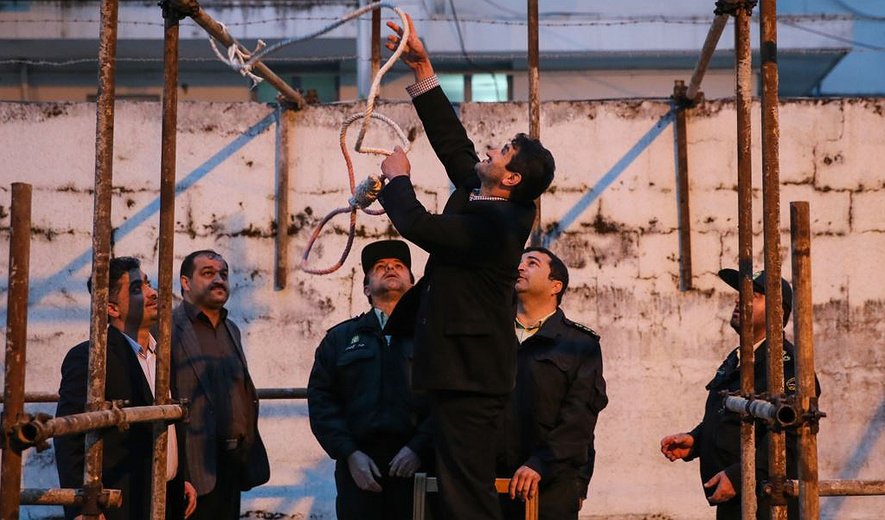 Iran Human Rights, June 1, 2015: Twelve of the prisoners who were transferred from Unit 2 of the Ghezelhesar prison (Karaj, west of Tehran) were executed Monday morning, reported Iran Human Rights (IHR) sources from Iran. The report has been confirmed by several independent sources.  All the prisoners were charged with drug offences. Identities of the prisoners will be published later. 
On saturday
IHR reported about the transfer of 13 death row prisoners
to the quarantine of Ghezelhesar prison.
Later reports show that the actual number of the prisoners who were transferred was 14. Two of the prisoners were for reasons IHR will publish later, not executed . In less than one month 56 prisoners from Unit 2 of Ghezelhesar prison have been executed. 34 of the executions has taken place after the prisoners gathered peacefully in the prison yard carrying handwritten banners asking the Iranian Supreme leader for forgiveness. More than 2000 death row prisoners are held in Unit 2 of Ghezelhesar prison. All the prisoners are sentenced to death for drug-related charges. IHR has received several testimonies on unfair trials, torture and forced confessions. According to reports collected by IHR at least 450 people have been executed in the first five months of 2015 in Iran. IHR strongly condemns the arbitrary mass-executions of Ghezelhesar prison and calls for the international community to react. Mahmood Amiry-Moghaddam said: " Hundreds of prisoners might be executed in Ghezelhesar prison if the international community continues its silence. Iranian authorities' use of the death penalty can only be compared to the ISIS. Unfortunately the arbitrary executions don't seem to have any consequences for the Iranian authorities".