Credible reports confirmed by Iran Human Rights (IHR) show that the Iranian authorities' crackdown of the November 2019 protests was the most brutal during the last three decades.
Examination of hundreds of reports from credible sources by IHR shows that at least 324 people were killed during a week of nationwide protests.
Protests which were triggered by a sharp increase in fuel prices on November 15, quickly turned to an outcry against the Islamic Republic establishment.
Reports show that most of the victims have been shot dead by the security forces' lethal arms. Some people were killed while watching the protesters from their balcony or at the top of the roofs. School children were also killed on their way back home from school.
Moreover, at least 10,000 people have been arrested and more than a thousand are wounded.
Iranian authorities have refused to officially announce the death toll so far. Since authorities have imposed a dreadful pressure on the victim's family members to keep quiet, the actual number of those killed under the protests might be even higher. IHR will continue its research on the matter.
Iran Human Rights (IHR) urges the international community to take urgent action to respond to the human rights crisis in Iran. IHR calls for the immediate release of the protesters and establishment of a UN fact-finding mission to investigate the reports of the gross human rights violations committed by the Iranian authorities during and after the November protests.
IHR director Mahmood Amiry-Moghaddam, said: "lack of a proper reaction by the international community will pave the way for the Iranian authorities to commit even bigger crimes in the near future. Those who issued the orders and those who executed the orders, from the Supreme Leader to the security forces in the field who shot at the protesters, must be held accountable."
Violent Crackdown of Peaceful Protests
On the evening of Thursday, November 14, 2019, Iranian media announced a sharp increase in petrol price applicable from the following day. Peaceful gatherings of citizens in some of the Iranian cities began on Friday (November 15) morning to protest the price hike.
According to the videos posted on social media platforms, citizens turned off their cars' engines on the streets and peacefully sat on the roads.
Soon security forces started using unnecessary and brutal force to repress the protesters. They shot and killed hundreds and arrested thousands for their peaceful protests.
During a TV interview, the Iranian minister of interior claimed the protesters attacked police stations and military camps. However, according to Bahram Parsaei, a member of the Iranian Parliament from Shiraz, "Not even one of the victims was close to any military station."
An eye-witness in the Iranian western city of Kermanshah told IHR, "on the morning of Saturday, [November 16,] people sat on the streets from 10 A.M., without even chanting any political slogan. Police forces were present with no reaction… Suddenly, at 3:30 P.M., a police commander received a phone call and immediately after that threatened people that they will be executed if they didn't remove themselves from the street! A middle-aged woman reacted by slapping the commander and he fired a bullet into the air. Everyone got excited and the clashes started."
There are also several video clips on social media showing security forces in different Iranian cities breaking windows of by-passing cars and homes and beating up bystanders.
Internet Blackout and The Supreme Leader Calling Protesters "Criminal Gangsters"; Green Lights for More Brutal Crackdown
On Saturday, November 16, the government imposed a near-total internet blackout on Iran. On the following day, the Islamic Republic's Supreme Leader, Ali Khamenei, called the protesters "criminal gangsters." The speech was considered as a green light for more brutal repression by the authorities.
Gangsters or Common People? What Do the Eye-witnesses Say?
Farhad Majdam was a 30-year-old man who was killed by a bullet in his head in Shahriar county, near Tehran. "He went out to fetch his nephews and nieces back home. A woman was shot near him. He went to help. They killed him, too," said a witness to IHR.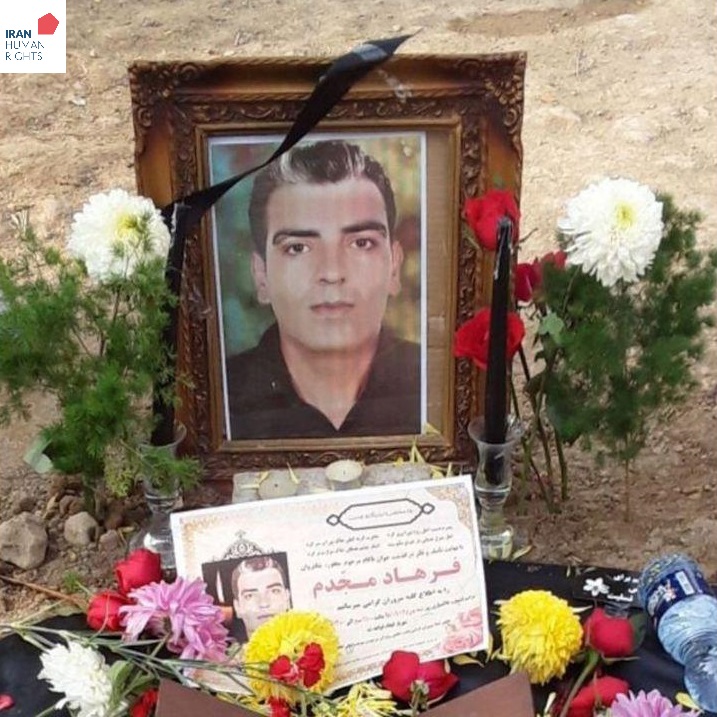 Farhad Majdam (Photo)
Danial Ostovari was a victim from Marivan city, Kurdistan province. Danial was not even in the street at the time of the protests. "Danial was watching the scene of protests from the top of his home's roof near Jahad square when he was hit in the heart by a bullet," a close source told IHR, "he was only 22. He got married only 18 days before he was killed."
Amirhossein Kabiri, 33, was a resident of Karaj city, near Tehran. He was shot dead on Sunday, November 17, 2019. A well-informed source told IHR: "He was recording a video of protests in Golshahr (a neighbourhood in Karaj). He was shot and transferred to a hospital by people. He was in a coma for two days but could not survive. Security forces did not let his family hold a funeral and forced the family to announce that their loved one died because of an accident."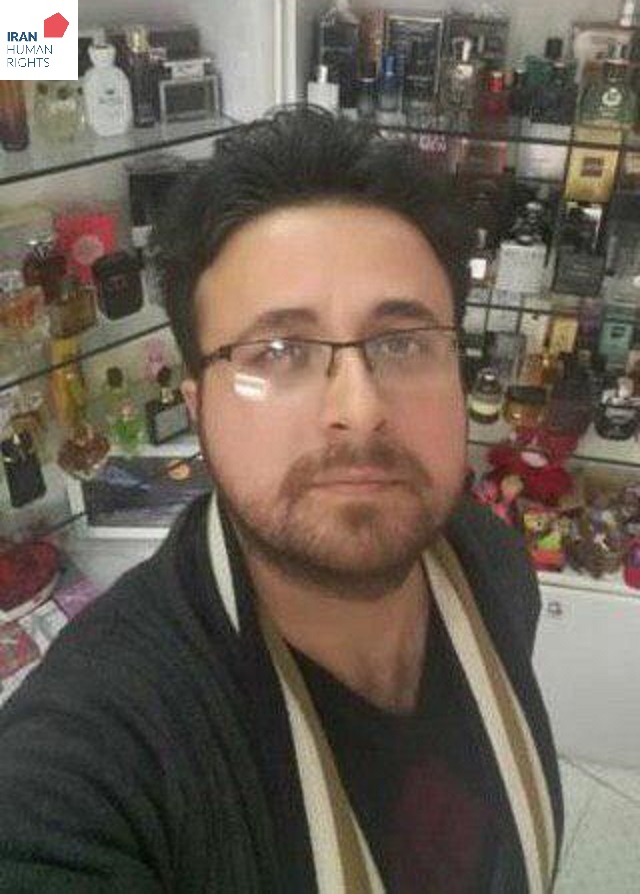 Amirhossein Kabiri (Photo)
An eye-witness told IHR that he could count eight corpses killed by bullets in Kermanshah city's Taleghani hospital.
Children Among the Victims
IHR records show at least 14 children under 18 years old among the people who were killed during the November protests in Iran.
Their names are: Armin Ghaderi, Reza Nissi, Hossein Ghassemi, Nika Esfandani, Sasan Eidivand, Amirhossein Davoudvand, Ahmad Mousavi Jaavaleh, Hessam Barani, Khaled Ghazlavi, Mohammad (Hamzeh) Barihi, Mohammadhossein Dastankhah, Alireza Nouri, Mohsen Mohammadpour and Mohammadjavad Abdi.
Four other victims, Pedram Jafari Komijani, Arian Radjabi, Mohammad Arabi and Mohammadreza Ahmadi were 18 at the time of their death.
A relative of Mohammadhossein Dastankhah, a 15-year-old boy who was shot dead in Sadra neighbourhood of Shiraz, told IHR: "He was going back home from school. He was hit in his heart by a bullet."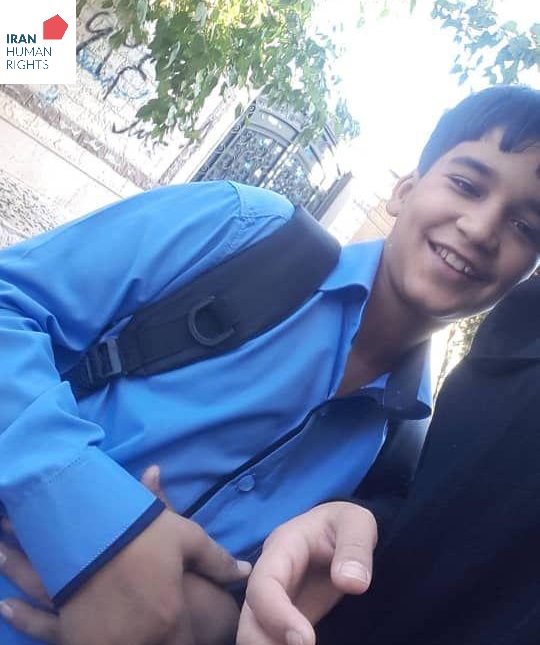 PHOTO Mohammadhossein Dastankhah
Among the victims, the story of Nikta Esfandani is notable. She was a 14-year-old girl who was shot dead in Tehran on November 16, 2019. Her death attracted significant attention on social media. In response, the Islamic Republic's television broadcast an interview with her father claiming Nikta was not against the regime and she was not a protester. It was not immediately known whether Nikta's parents were under pressure to give the interview. A few days later, Iranian judiciary spokesperson claimed Nikta was dead as a result of food poisoning. Then Nikta's father published a post on Instagram saying: "I hope the blood of my innocent daughter was not shed without a proper response." This might be a sign that Iranian officials are trying to cover up the crimes committed by the security forces.
Mahshahr Mass Killing
According to the videos posted on social media and eye-witnesses who spoke to IHR's researchers, there was a mass killing of protesters in Mahshahr, a city and port in the Khuzestan province, south-western Iran.
Security forces and IRGC used heavy machine guns (Dushka) against people in Mahshahr.
An eye-witness told IHR, "Around 40 people shot dead inside a reed bed around Mahshahr and 20 others were killed inside the city."
Mahshahr's top police commander, Reza Papei, claimed during a TV interview: "In the reed bed, there were members of armed opposition groups who shot security forces." He has not yet provided any evidence supporting the claim.
Arrests, Torture of Detainees, Pressure for False TV Confessions
Based on several official and unofficial reports, Iran Human Rights (IHR) estimates around 10 thousand people have been arrested during and after the protests in Iran. More than two weeks after the protests the arrests continue, according to the reports received by IHR.
On November 26, the Iranian Islamic Parliament's National Security Committee spokesperson, Hossein Naghavi Hosseini, told Etemad Daily that around seven thousand people had been arrested up to the date.
Many of wounded protesters were also arrested in the hospitals and transferred to detain centers and prisons. They are held in a very bad condition.
A well-informed source from Shiraz city's Adel-Abad prison told IHR, "On Sunday ّ[November 17] at least 200 people were transferred to a quarantine ward of Adel-Abad prison. Among them, there are four wounded people. One of them, Hossein Vafaei, was shot in his buttocks and cannot move. Reza Taheri, another detainee, received a bullet in his leg. The bullets are removed but no further medical treatment is done, not even antibiotics are given to him. He is suffering."
The body of Hamid Sheikhani (35), one of the detained protesters, was delivered to his family days after his arrest. Authorities claimed he died in prison because of a heart attack. However, an eye-witness told BBC Persian that a neck injury was seen on Hamid Sheikhani's body.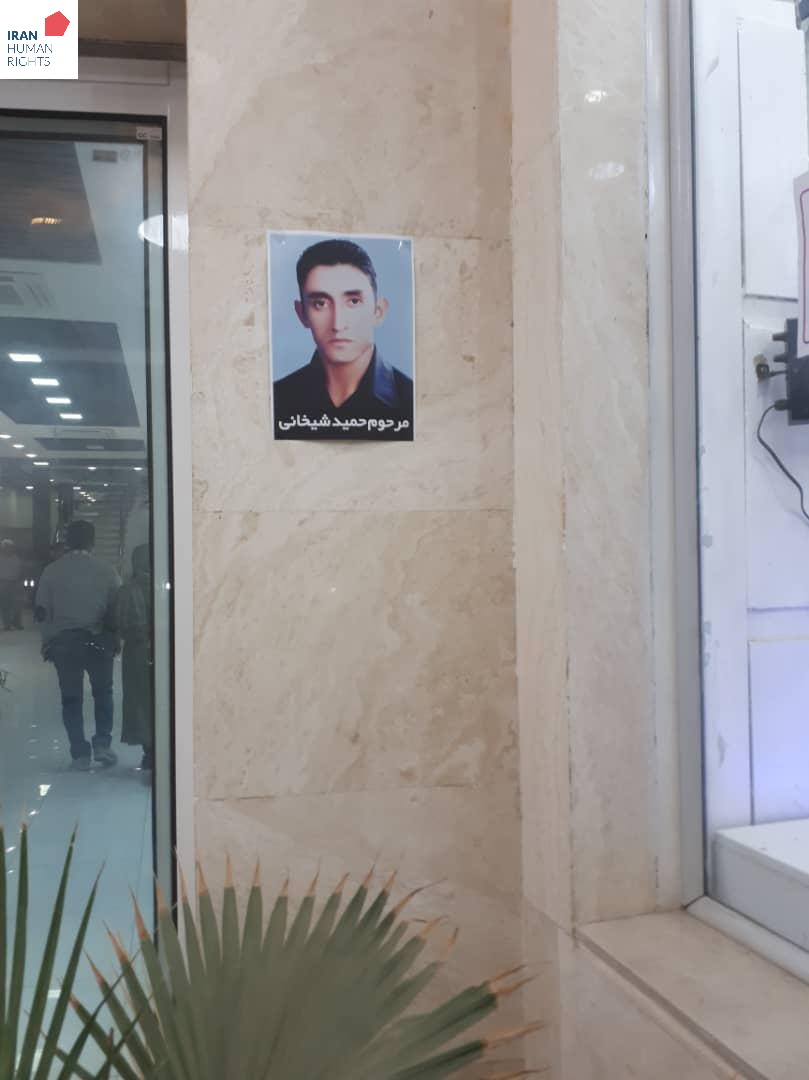 Hamid Sheikhi's PHOTO
A source from Rajai-Shahr prison (a prison in Karaj city, near Tehran), told IHR, "We can hear shouting and cry of the detainees under torture from the wards they are held in. I have seen one of them at the prison's medical center with a smashed palm and fingers. Authorities were going to send him to a hospital for amputation."
Imprisoned prominent human rights defender Narges Mohammadi, published a letter from women's ward of Evin prison on December 1, 2019, stating the condition of two protesters detained in the prison as an example.
According to Narges Mohammadi, the first case was a young woman whose leg was shot and bleeding. The woman told Narges that no one even provided her with washing her wounds with disinfectants.
The second case, as Mohammadi describes, is a 20-year-old girl who was arrested during the protests. The interrogators beat her, cursed her with profane sexist language and forced her to confess against herself in front of a camera.
Iran Human Rights (IHR) had previously warned against the possibility of use of torture to extract a forced confession from the arrested protesters. IHR once again asks the international community to react immediately and properly in this regard.
There are also some reports that Iranian authorities asked the family of the victims to pay a fine before getting the corpses. However, IHR could not confirm the reports so far. The investigations are continued.
Moreover, there have reports published on social media showing that protesters' dead bodies have been found in some rivers in Western Iran. Iranian authorities have not yet reacted to the reports. IHR is investigating the matter and will publish the findings as soon as the confirmation process is completed.
Recommendations and Demands:
IHR is strongly concerned about the condition of the arrested protesters in the Iranian detention centers. IHR warns that many of the protesters can be sentenced to death based on confessions extracted under torture. Many of the detainees are held under inhumane conditions, without access to lawyers or medical aid.
IHR calls on the international community, especially the UN Human Rights Council, to establish a fact-finding committee and put pressure on the Islamic Republic to allow an independent inquiry supported by the Council to investigate the reports.
IHR also calls for accountability for those who ordered and executed the orders of shooting at the protesters, and those involved in ill-treatment of the detainees and extraction of confessions. A ban on issuing visas and freezing the assets belonging to these individuals must be the first step towards holding them accountable. All the individuals involved in the brutal crackdown of the November protests, from the Supreme Leader Ali Khamenei to the security forces on the ground must eventually be held accountable in fair trials in the future.