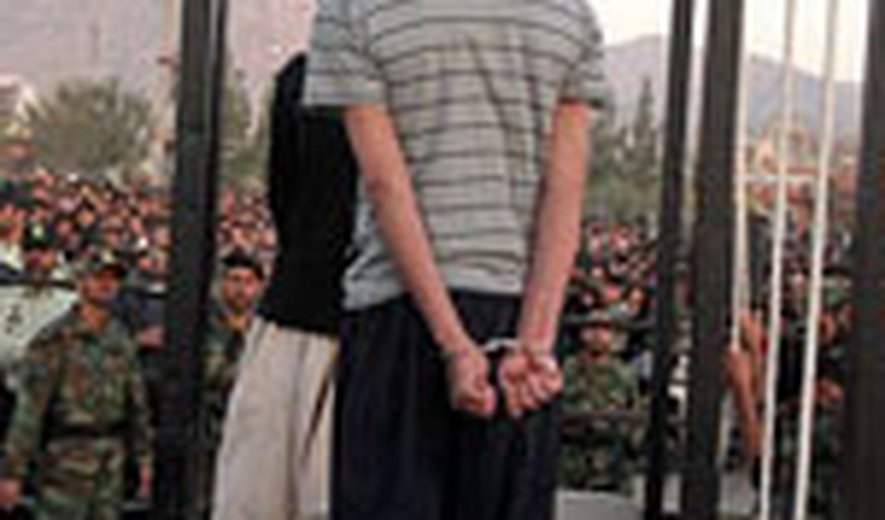 Iran Human Rights, October 12: Four men were hanged publicly in the town of Khomeinishahr, in central Iran, early this morning.
According to the state run Iranian news agency ISNA the men were identified as Abbas (24), Rajab Ali (23), Asghar (20) and Mansour (25) and were convicted of rape. The executions took place in the "Behesht" (paradise) park of Khomeinishahr this morning.
All the individuals were arrested in connection with a rape of several women in a garden outside Khomeinishahr earlier this summer. All together 15 people have been accused in this case and four of them have not been arrested yet.
Quoting the prosecutor of Isfahan, hamshahrionline wrote: "The individuals who were hanged in public today, were also sentenced to 74 lashes.
The flogging sentences were implemented in the prison yesterday".
Iran Human Rights (IHR) strongly condemned today's public executions in Khomeinishahr. Mahmood Amiry-Moghaddam, the spokesperson of IHR said: "These barbaric executions are used as a tool to spread fear among the people". He continued: "So far more than 340 people have been executed in Iran according the official sources in 2011 and we have observed a dramatic increase in the number of public executions. We urge the international community to condemn these executions and put sustainable pressure on the Iranian authorities". Amiry-Moghaddam added: "Through inhumane punishments Iranian authorities promote a culture of brutality and are responsible for the increasing violence in the Iranian society".