MOVEMENTS PROMOTING ABOLITION AND MOBILISING THE CIVIL SOCIETY INSIDE IRAN
April 30, 2021, 4:35 p.m.
Iran Human Rights (IHR); April 30, 2021: In recent years, the forgiveness movement has led to hundreds of death row inmates being saved from the gallows and has played a crucial role in the discussions and debates around the death penalty. In 2020, at least 662 people sentenced to qisas (retribution-in-kind) for murder, were forgiven by their victim's family (either by accepting diya (money) or forgiveness), compared to 374 in 2019.
This article is an extract from Iran Human Rights' 2020 Annual Report on the Death Penalty in Iran. Read PDF version here.
Movements promoting abolition and mobilising the civil society inside Iran:
In recent times, we have observed an increasing trend in Iranians expressing their opposition to the death penalty in Iran. This opposition is expressed either directly through social media campaigns or in the framework of movements trying to restrict the use of the death penalty. The repression of civil society in recent years demonstrates that the Iranian authorities see any peaceful attempts against the death penalty as a threat.
#اعدام_نکنید (don't execute): the largest online campaign against the death penalty
Following the November 2019 nationwide protests and a rise in execution rates, an organic movement started to grow online. In July 2020, after the death sentences of three November 2019 protesters – Amirhossein Moradi, Saeed Tamjidi and Mohammad Rajabi – were upheld by the Supreme Court, Iranians globally united on Twitter to make their voices heard by the world and the Islamic Republic leaders by making the Farsi hashtag #اعدام_نکنید ("don't execute") trend globally.[1] Within 24 hours, the hashtag had been tweeted over 8 million times and soon European politicians and UN human rights experts joined in support.[2]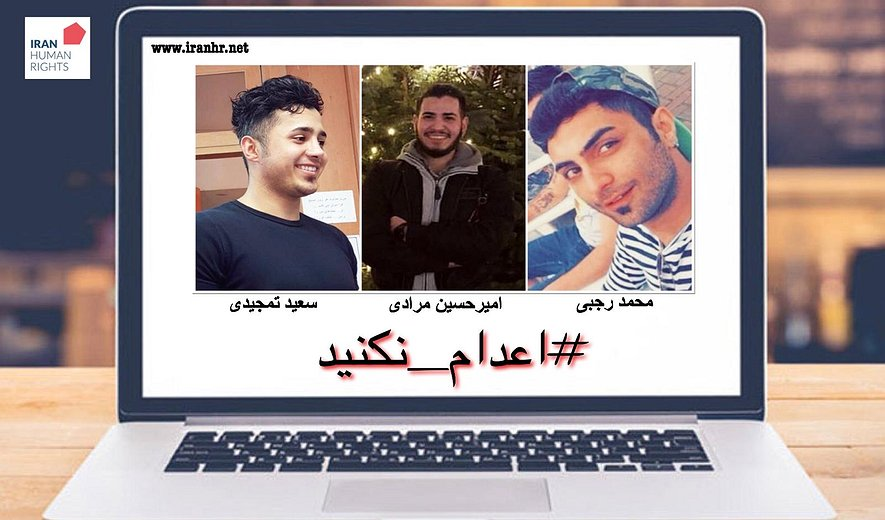 While the mass online campaign involved Iranians around the world, the important point to note is that as Twitter itself is banned in Iran, almost all Twitter users in Iran are forced to use VPNs which register their locations as countries other than Iran. While the campaign continued at a less intense rate, it resurged in August after the execution of protester Mostafa Salehi, who was executed in relative silence on trumped-up murder charges. Vowing to not allow anyone to slip through the cracks again, it was used en masse to try to save the life of protester Navid Afkari in September 2020. The hashtag continues to be used as part of the anti-death penalty movement for all prisoners on death row.
Forgiveness movement
As mentioned under the section for qisas executions, according to the Iranian Penal Code, murder is punished by qisas, where the family of the victim can demand a retribution death sentence. But they can also demand blood money (diya) instead of a death sentence or can simply grant forgiveness.
This opens an opportunity for citizens to counter the death penalty by promoting forgiveness without being subject to persecution by the authorities. In the past 4 years, the movement for forgiveness has grown significantly. Civil society groups such as the Imam Ali Popular Student Relief Society (IAPSRS), LEGAM (Step by step to abolish the death penalty) and other local and national campaigns have been active in promoting forgiveness instead of the death penalty.
This movement has resulted in the revocation of death sentences for hundreds of death row inmates in recent years.[3] Additionally, the forgiveness movement has contributed significantly to promoting the abolition and debate around the death penalty as a punishment. However, as the movement has grown, so have repressive measures, with both LEGAM and the Imam Ali Relief Society being subjected to the authorities' crackdown and persecution.
Repression of abolitionist activists
The crackdown on abolitionist civil society continued in 2020 through increased pressure and new trumped-up charges for activists and civil society. As the leading abolitionist movements in Iran, LEGAM and the IAPSRS have been subjected to the greatest repression.
Narges Mohammadi: new trumped-up charges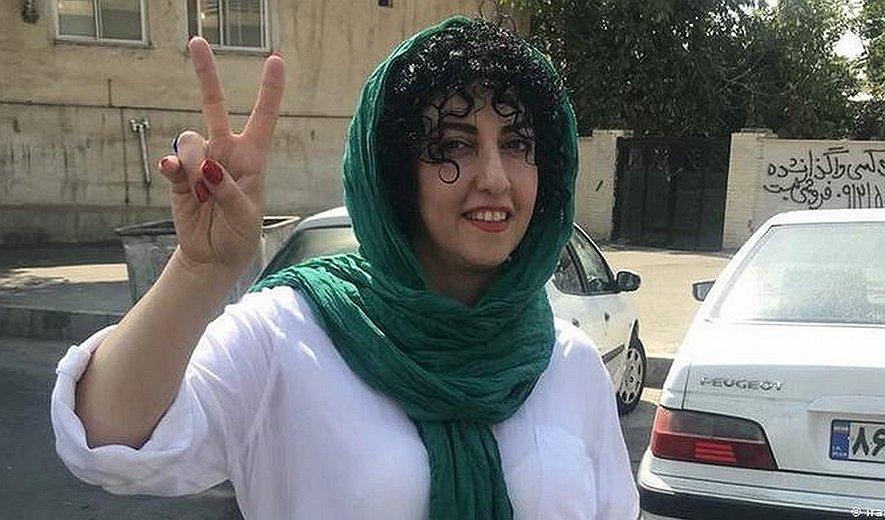 After spending five and half years behind bars, Narges Mohammadi, prominent human rights defender and member of the anti-death penalty campaign LEGAM was released from prison on 8 October 2020.[4]
On 27 February 2021, she released a video on social media explaining that she had been summoned to court twice in December, for a case that had been opened against her while she was still in prison. The activist, who is also the Vice-President of the Centre for Human Rights Defenders in Iran, stated that she was refusing to appear in court and would be disobeying any judgements made. In the video, she describes the sexual abuse and ill-treatment she herself and other women are subjected to in prisons and says authorities have still not responded to the complaint she made in this regard on 24 December. The new case opened against her concerns the sit-in staged by female political prisoners at Evin Prison, in protest to the killing and arrests of protesters by security forces in November 2019.
Atena Daemi: kept behind bars on new trumped-up charges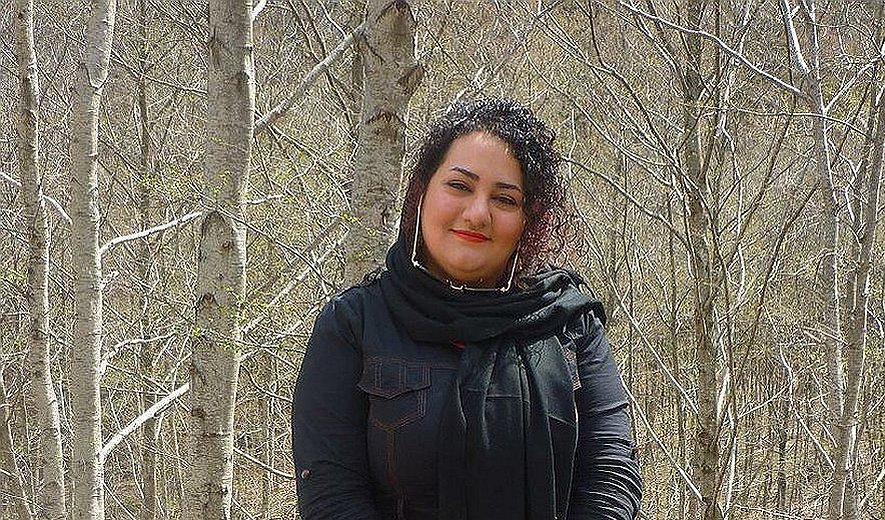 Atena Daemi is a human rights and anti-death penalty activist. Due to be released on 4 July 2020 after completing a five-year sentence, she found herself facing new trumped-up charges in a case opened against her while she was still in prison. Following the protest sit-in with Narges Mohammadi and other female political prisoners at Evin Prison, Atena was sentenced to two years in prison and 74 lashes by Branch 24 of the Tehran Revolutionary Court, presided by Judge Amouzad, on charges of "propaganda against the system and disrupting prison order". On the first charge, the court cited written letters and statements attributed to her, and on the second charge, celebrating, partying and dancing during Ashura, the day marking the death of Imam Hussein in the Shi'ite calendar. Atena called the new charges baseless, stating that, for example, in the case of disrupting prison order, there had been no celebrations by her or her fellow prisoners around the days marking Ashura.[5] The Supreme Court rejected her lawyer's request for a retrial at the end of February 2021. She is currently held at Evin Prison.
Nasrin Sotoudeh: sentenced to 33 years in prison and 148 lashes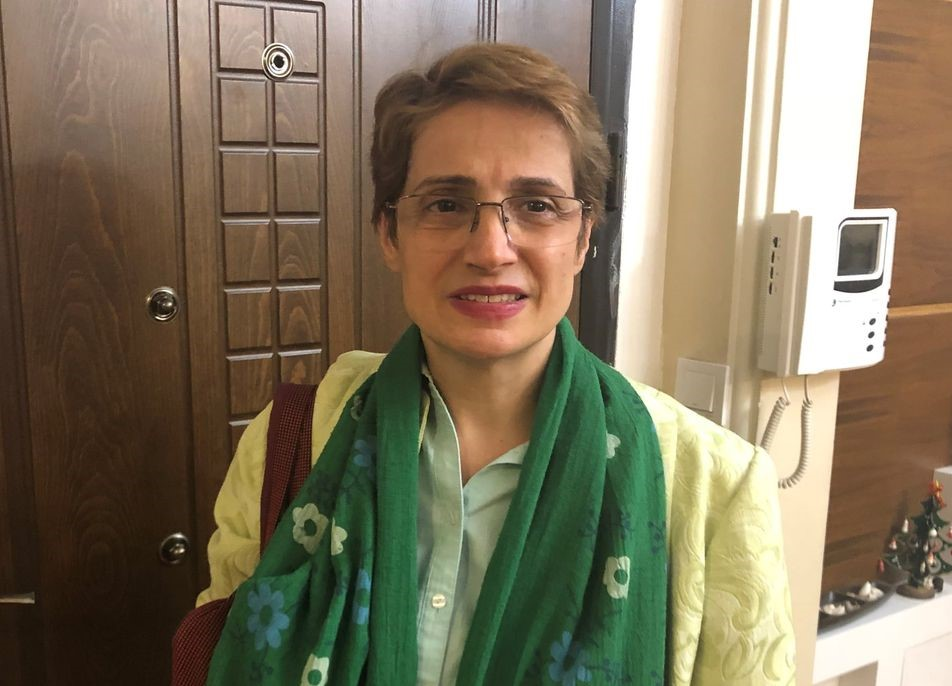 In March 2019, prominent lawyer and human rights defender, Nasrin Sotoudeh was sentenced to 33 years of imprisonment and 148 lashes for 7 charges, including "participating and giving a speech at an illegal gathering outside the United Nations building with members and elements of the illegal group LEGAM". She has represented many human rights activists, women's rights activists, victims of child abuse and juvenile offenders on death row.
In 2020, Nasrin also faced further harassment and pressures that have extended to her family. After her bank accounts were frozen in July, her daughter Mehraveh was arrested in August and transferred to Qarchak Prison to add to the already mounting pressure. On 9 February 2021, her husband, civil activist Reza Khandan, told IHR that in a continuation of familial punishments, his own bank accounts had also been frozen on the orders of the Evin Prosecutor's Office. Nasrin's health and the lack of medical care also continue to be of concern. After she contracted COVID-19, Reza Khandan told IHR that despite the medical examiner's opinion that she was still contagious and required further time, she was forced to return to prison from furlough.[6] Nasrin Sotoudeh is the co-winner of the European Parliament's 2012 Sakharov Prize for Freedom of Thought[7] and is currently held at Qarchak Prison.
Imam Ali Popular Student Relief Society: an NGO under attack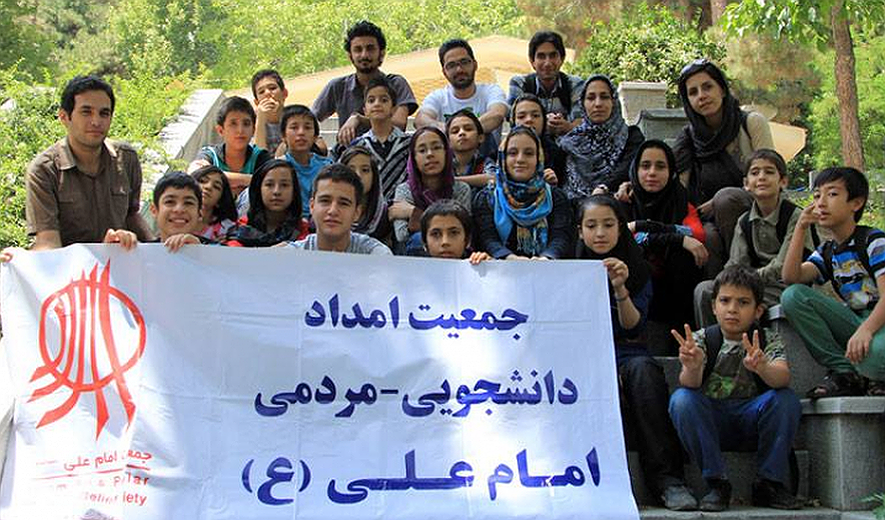 The Imam Ali Popular Student Relief Society (IAPSRS) is a non-governmental organisation and one of the best known and most effective charities in Iran. Established in 1999 by Sharmin Meymaninejad, it is run entirely by a network of volunteers, currently numbering 10,000 people. IAPSRS works on a wide range of issues, including poverty, education, healthcare and employment. One of the most crucial areas of their work is supporting youth affected by crime, especially those sentenced to death, who were under 18 at the time of the alleged crime. The organisation has managed to save over 50 teenagers from execution through mediation with the victims' families.[8]
Sharmin Maymandinejad as well as their compliance officer, Katayoun Afrazeh and head of public relations, Morteza Keymanesh were arrested on 21 June 2020. On 17 August, the Ministry of the Interior set a 20-day deadline for the NGO to change its structure. Following the expiration of the deadline, Zahra Rahimi, the organisation's managing director and Sharmin's wife, was arrested on 6 September and released the next day. While all members were released on bail by the end of 2020, in a statement issued on 21 February 2021, IAPSRS announced that the Ministry of Interior had given the NGO until 12 March to dissolve the organisation.[9]
A Ministry of the Interior motion for the dissolution of the IAPSRS, was granted by Branch 55 of Shahid Beheshti Judicial Complex in Tehran on 3 March.[10]
References
[1] https://iranhr.net/en/eng/articles/4327/
[2] https://iranhr.net/en/eng/articles/4331/
[3] See the annual report
[4] https://iranhr.net/en/articles/4459/
[5] https://iranhr.net/media/files/HRD_Report_Iran_Human_Rights_Eng.pdf
[6] https://iranhr.net/en/articles/4515/
[7] https://www.europarl.europa.eu/news/en/press-room/20121024IPR54366/nasrin-sotoudeh-and-jafar-panahi-winners-of-the-2012-sakharov-prize
[8] https://iranhr.net/media/files/HRD_Report_Iran_Human_Rights_Eng.pdf
[9] https://twitter.com/imamalisociety/status/1363460172497223681?s=20