Iran Human Rights (IHRNGO); August 28, 2023: Iran Human Rights will be hosting the "Iran: Transitional Justice" conference on 2 and 3 September 2023 in Oslo with the presence of experts, researchers and human rights defenders.
This is the third conference in a series organised by Iran Human Rights with the theme of "Iran in Transition." The aim of these conferences is to create debate and dialogue between citizens and experts on the challenges of the transition period, and in parallel, to propose solutions by examining different transition models which will guarantee the rights of all Iranians.
Click this link or scan the QR code to attend or pose questions to our panelists.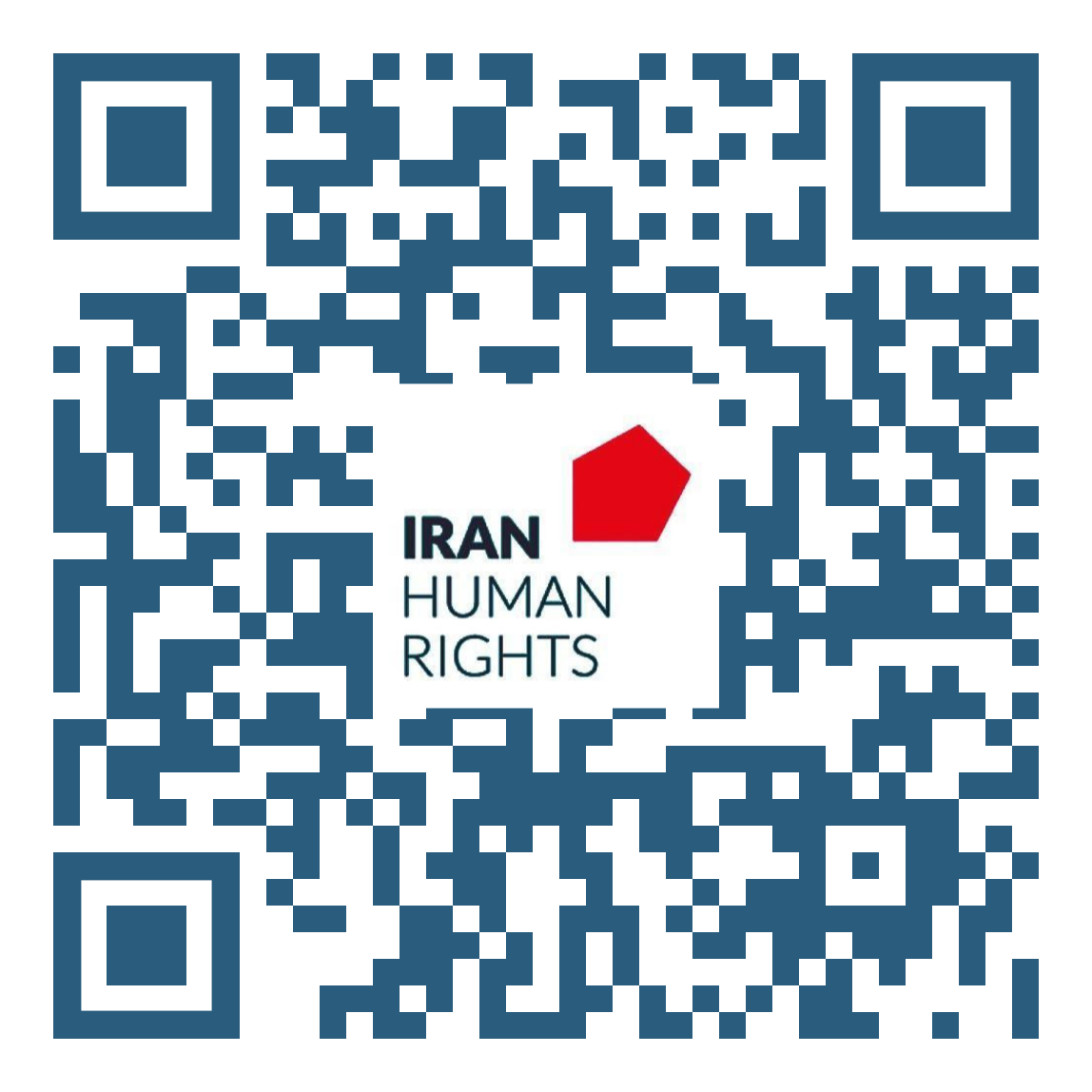 Please note that your name and surname must match your passport or National ID card. As audience numbers are limited by the venue size, passes will be issued on a first come, first serve basis. Please don't forget to specify which day you are registering for (please see program schedule at the end of this article).
Questions for the panel will be written on paper and read by the moderator to maintain order. You will receive a copy of the conference rules upon arrival. Live interpretation will be available in Farsi and English.
About Iran Human Rights "Iran in Transition" conferences
The first conference titled "Iran in Transition" which took place online from 31 January-1 February 2022, included Iranian and non-Iranian academics, experts and activists. They examined transitional justice, the necessity to establish an independent judiciary, environmental and water justice, discussed experiences of transitions from other countries, such as South Africa and Poland, and proposed peaceful ways of its achievement.
The second conference took place in Oslo on 18 February 2023 with two panels discussing current human rights priorities and those in the transition period and included influential political personalities and activists from different parties and groups.
Events of the last few years have made the future of the Islamic Republic more uncertain than ever. The economic crisis has pulled a large sector of society into poverty and exposed systematic corruption and the authorities' incompetence in solving people's daily problems. Faced with discontent, the Islamic Republic's only recourse has been to violently repress popular protests. The question is no longer "when" but "how" Iran will transition from authoritarian rule. An unaddressed question that requires an exploration of the alternative models that may not only fill the power vacuum following the collapse of the Islamic Republic, but also lay the groundwork for laws that guarantee equal human rights for all Iranian citizens.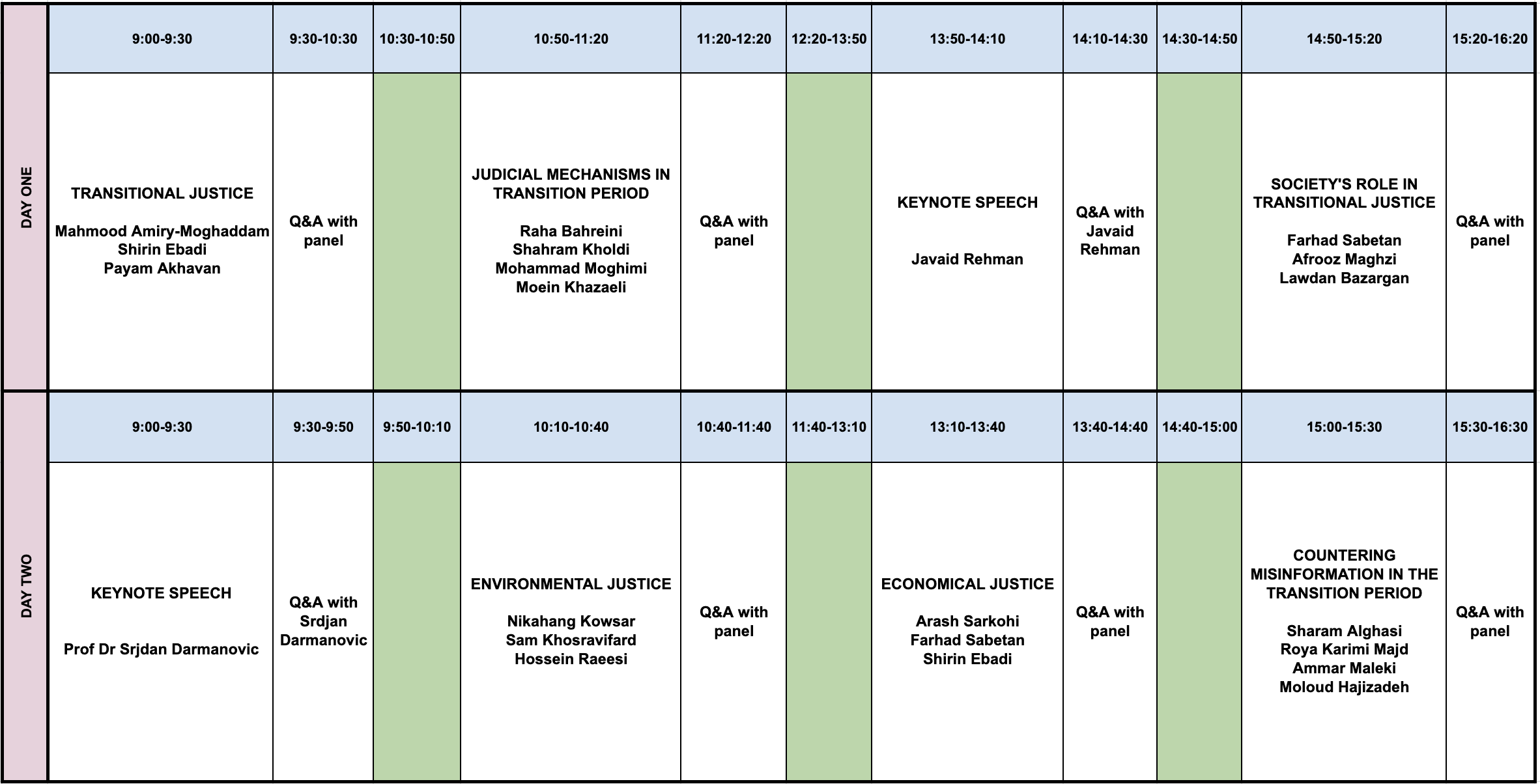 Day 1 (Saturday, 2 September)
PANEL ONE: TRANSITIONAL JUSTICE
9:00-10:30: Speeches and Q&A
Mahmood Amiry-Moghaddam
Shirin Ebadi
Payam Akhavan
PANEL TWO: JUDICIAL MECHANISMS IN TRANSITION PERIOD
10:50-11:20: Speeches and Q&A
Raha Bahreini
Mohammad Moghimi
Moein Khazaeli
Shahram Kholdi
13:50-14:30
KEYNOTE SPEECH BY DR JAVAID REHMAN, UN SPECIAL RAPPORTEUR ON THE SITUATION OF HUMAN RIGHTS IN THE ISLAMIC REPUBLIC OF IRAN
The most prominent cases of human rights violations in Iran; The role of United Nations mechanisms in promoting accountability
PANEL THREE: SOCIETY'S ROLE IN TRANSITIONAL JUSTICE
14:50-16:20: Speeches and Q&A
Lawdan Bazargan
Farhad Sabetan
Afoorz Maghzi

Day 2 (Sunday, 3 September)
9:00-9:50
KEYNOTE SPEECH BY PROFESSOR DR SRĐAN DARMANOVIĆ, FORMER MONTENEGRO FOREIGN MINISTER AND AMBASSADOR TO THE UNITED STATES
Different models of democratic transition: lessons from the Western Balkans and other countries
PANEL FOUR: ENVIRONMENTAL JUSTICE
10:10-11:40: Speeches and Q&A
Nikahang Kowsar
Sam Khosravifard
Hossein Raeesi
PANEL FIVE: ECONOMIC JUSTICE
13:10-14:40: Speeches and Q&A
Arash Sarkohi
Farhad Sabetan
Shirin Ebadi
PANEL SIX: COUNTERING MISINFORMATION IN THE TRANSITION PERIOD
15:00-16:30: Speeches and Q&A
Sharam Alghasi
Roya Karimi Majd
Ammar Maleki
Moloud Hajizadeh