Twelve prisoners were executed in four different Iranian provinces today. Six of today's executions were reported by official Iranian sources and two of the executions was carried out in the public. In the last seven days there have been 25 official and 14 unofficial executions in Iran. Iran Human Rights, February 19: Six prisoners were hanged in three different Iranian provinces today Wednesday 19. February. According to the official website of the Iranian Judiciary in the province of Gilan (northern Iran), four risoners were hanged in three different prisons
5em;"> in this province today. Two of the prisoners, identified as M.R. and M.P. and convicted of murder were hanged in the central prison of Rasht. Two other prisoners, identified as F.A. and M. S., charged with participation in trafficking of 2 kilograms of heroin and 2880 grams of crack, were hanged in the prisons of Roudbar and Somesara said the report.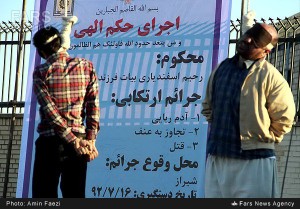 The state run Mehr news agency reported about a public hanging in Shiraz (Fars Province, southern Iran). The prisoner who was identified as A. Z. was convicted of armed robbery and murder. His partner was sentenced to amputation of one hand and foot said the report. The execution took place at Kozehgari Square of Shiraz, the site of two other public executions last week (Picture). Another public hanging was carried out in the city of Khoy (West Azerbaijan Province, northwestern Iran) today. According to the Iranian State Broadcasting, the prisoner who was not identified by name was convicted of murder and rape. According to sources Iran Human Rights (IHR) has been in contact with six prisoners, among them a possible juvenile offender, were hanged in the Rajaishahr prison of Karaj (west of Tehran) today. All the prisoners were convicted of murder. FIVE of the prisoners are identified as: Mohammad Meghdadi, Mehdi Alibaba, Shahriar Mozaffari, Mohsen Taheri and Meysam Chanbari (possibly 17 year old at the time of alleged offence).