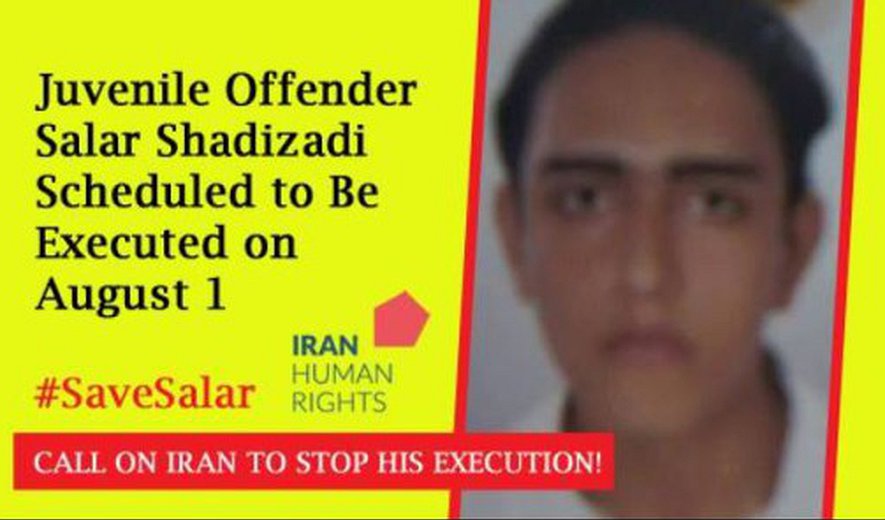 Salar Shadizadi, a juvenile prisoner who was arrested for a murder crime when he was 15 years old, will reportedly be hanged to death by orders of Iran's judiciary on Saturday August 1st at 5am Tehran time.
Iran Human Rights, July 31 2015: According to close sources, Iranian officials contacted Salar Shadizadi's brother on Friday to notify him that the hanging will occur at 5am Tehran time at Lakan Prison and invited the family to be present at the execution scene (typically in a murder case in Iran, officials invite the murder victim's family along with the family of the accused to watch the execution of the accused). Salar Shadizadi was arrested in 2006 when he was 15 years old for an alleged murder crime, he has been imprisoned since.
In 2013 Iranian officials reportedly transferred Salar to Lakan Prison's quarantine section and had planned to execute him, however, due to revisions that were made to the Islamic Penal Code, his execution was delayed. Iran is signatory to the United Nation's International Covenant on Civil and Political Rights, the treaty states: "Sentence of death shall not be imposed for crimes committed by persons below eighteen years of age..." In two separate statements Amnesty International has called on Iranian officials to stop Salar's execution. The Norwegian government and the German Human Rights Commissioner have both issued statements calling on Iranian officials to quash his death sentence. Iran Human Rights once again calls on the international community and civil society activists inside Iran to do what they can to prevent Salar Shadizadi's execution.