Iran Human Rights (IHRNGO); May 12, 2023: At least 12 political prisoners are currently at risk of execution in Iran.
Iran Human Rights warns of their imminent executions and calls on the international community, political sponsors in particular, to resume the campaigns to save their lives.
Director, Mahmood Amiry-Moghaddam said: "After executing a kidnapped Swedish-Iranian national and two people for expressing their opinions, it seems that the Islamic Republic is expanding the scope of charges it uses to carry out the death penalty. Protesters whose executions were delayed due to international pressure, are at particular risk."
The cases highlighted are those currently at the most risk of execution in Iran. It is important to note that no evidence of guilt has been presented in any of the cases, instead, authorities relied on torture-tainted forced confessions in grossly unfair trials where the defendants were denied the right to their own lawyers and any semblance of due process. It should also be noted that while the Islamic Republic has announced decisions in some cases due to external pressure, the Judiciary continues to operate in an opaque manner. As such, some of the sentences may have been confirmed by the Supreme Court without being officially reported.
Khaneye Isfahan case:
Protesters Saleh Mirhashemi, Majid Kazemi and Saeed Yaghoubi were sentenced to death for charges of moharebeh (enmity against god) on 9 January in the case known as "khaneye Isfahan." They were tortured to force self-incriminating confessions which were aired, to testify against each other and to take part in a reconstruction of the alleged crime scene where they were forced to repeat the scenario as was dictated to them. In Majid Kazemi's case, his two brothers were also arrested and used to pressure him into confessing to the false charges. Informed sources reported that their sentences were upheld on 9 May. They have been held in solitary confinement in Isfahan Central Prison for weeks. Their forced confessions were aired on 11 May, increasing concerns of their imminent executions.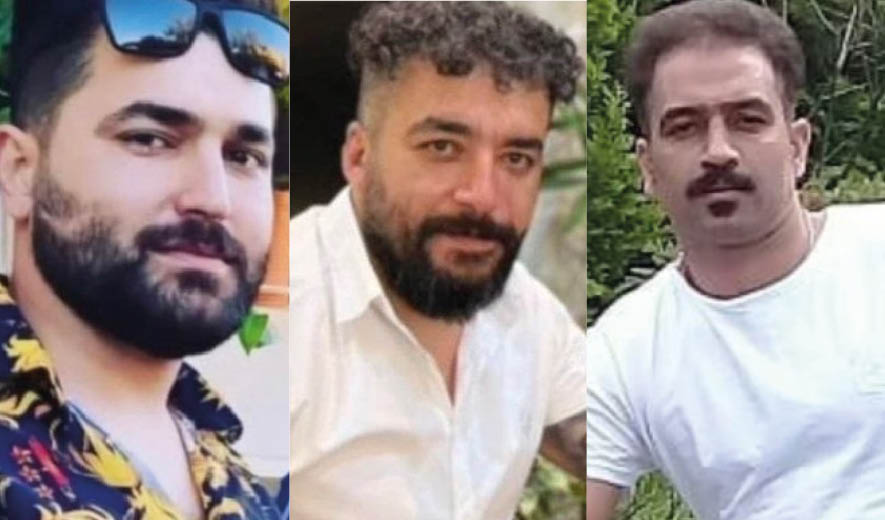 From left: Majid Kazemi, Saleh Mirhashemi and Saeed Yaghoubi
Shahcheragh case:
Afghan nationals Mohammad Ramez Rashidi and Naeim Hashem Ghotali were sentenced to death for charges of efsad-fil-arz (corruption on earth), baghy (armed rebellion) and action against national security by Branch One of the Shiraz Revolutionary Court on 15 February. Tortured to force self-incriminating confessions that were aired prior to his trial, Mohammad is the first defendant in the case of the terrorist attack on Shahcheragh Shrine in Shiraz on 26 October 2022. Naeim, who was first revealed as a defendant in the case at trial, is the second defendant. The court found them guilty based on their torture-tainted confessions. While their sentences have not been formally upheld, given that they have no community or consular support and their case linked to ISIS, their political cost of execution is very low. They are thus at risk of hasty executions once their sentences have been upheld by the Supreme Court.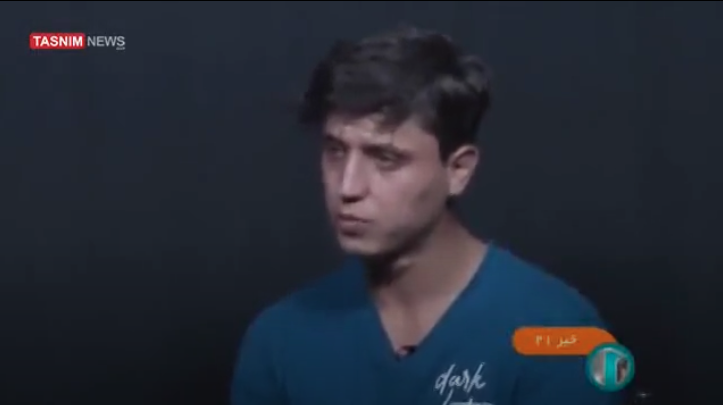 Mohammad Ramez Rashidi in his forced confessions aired by state media, no photo is available of Naeim Hashem Ghotali
6 Arab Political Prisoners:
Arab political prisoners Ali Mojadam, Mohammadreza Moghadam, Adnan Ghabishavi, Moein Khanfari, Habib Deris and Salem Mousavi were sentenced to death for charges of baghy (armed rebellion) by the Ahvaz Revolutionary Court on 24 February. Ali Mojadam and Mohamadreza Moghaddam were charged as "leaders of the group's dometic branch" and all men were sentence to death for "membership in a baghy group, the armed branch of Arab Struggle Movement for the Liberation of Ahwaz (ASMLA) in Iran with aim of armed rebellion against the Islamic Republic system." They were defendants in the same case as Swedish-Iranian Arab dissident, Habib Asyoud (Chaab) who was kidnapped from Turkey and executed on 6 May after a grossly unfair trial.
The six political prisoners were also subjected to torture to force self-incriminating confessions. This is while They were transferred to solitary confinement in preparation for their executions on 7 May. According to activists, they had conducted a ceremony for Habib Chaab.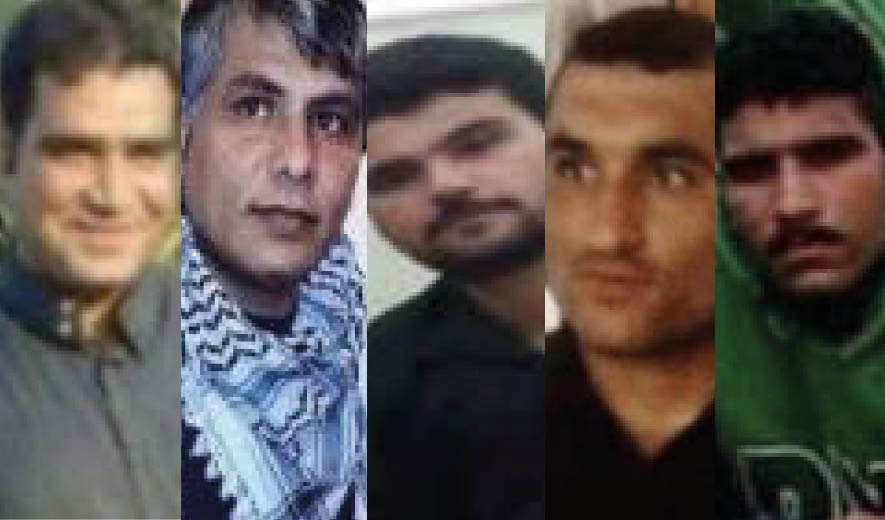 From left: Ali Mojadam, Habib Deris, Salem Mousavi, Mohamadreza Moghadam and Moein Khanfari
Mojahed Kourkour
Protester Mojahed Kourkour was arrested in Izeh on December 20 in relation to the nationwide protests. Shot during arrest, he was tortured to force self-incriminating evidence that was aired shortly after his arrest. On 7 April, Mojahed was sentenced to death by the Ahvaz Revolutionary Court. He also has a case at the Criminal Court for qisas (retribution-in-kind) for murder. His sister reported that he was transferred to Tehran on 11 May, raising concerns that it may be to carry out his execution.
According to the judiciary, Mojahed Kourkour was sentenced to death for charges of "moharebeh (enmity against god) through drawing a weapon with the intention to kill people and create fear, efsad-fil-arz (corruption on earth) committed through firing a war weapon, disrupting public order, causing harm to physical integrity of seven people including Kian Pirfalak, causing major damage to public and private property, forming a baghy group and its membership through armed rebellion against the government (baghy/armed rebellion)."
Kian Pirfalak's parents, uncle and lawyer have previously stated that his murder was carried out by security forces and they have no complaints against Mojahed Kourkour.