Qisas executions since 2010
According to data gathered by IHR, at least 1,678 qisas executions were carried out between 2010 and 2020. The diagram below shows the trend of qisas executions during this period.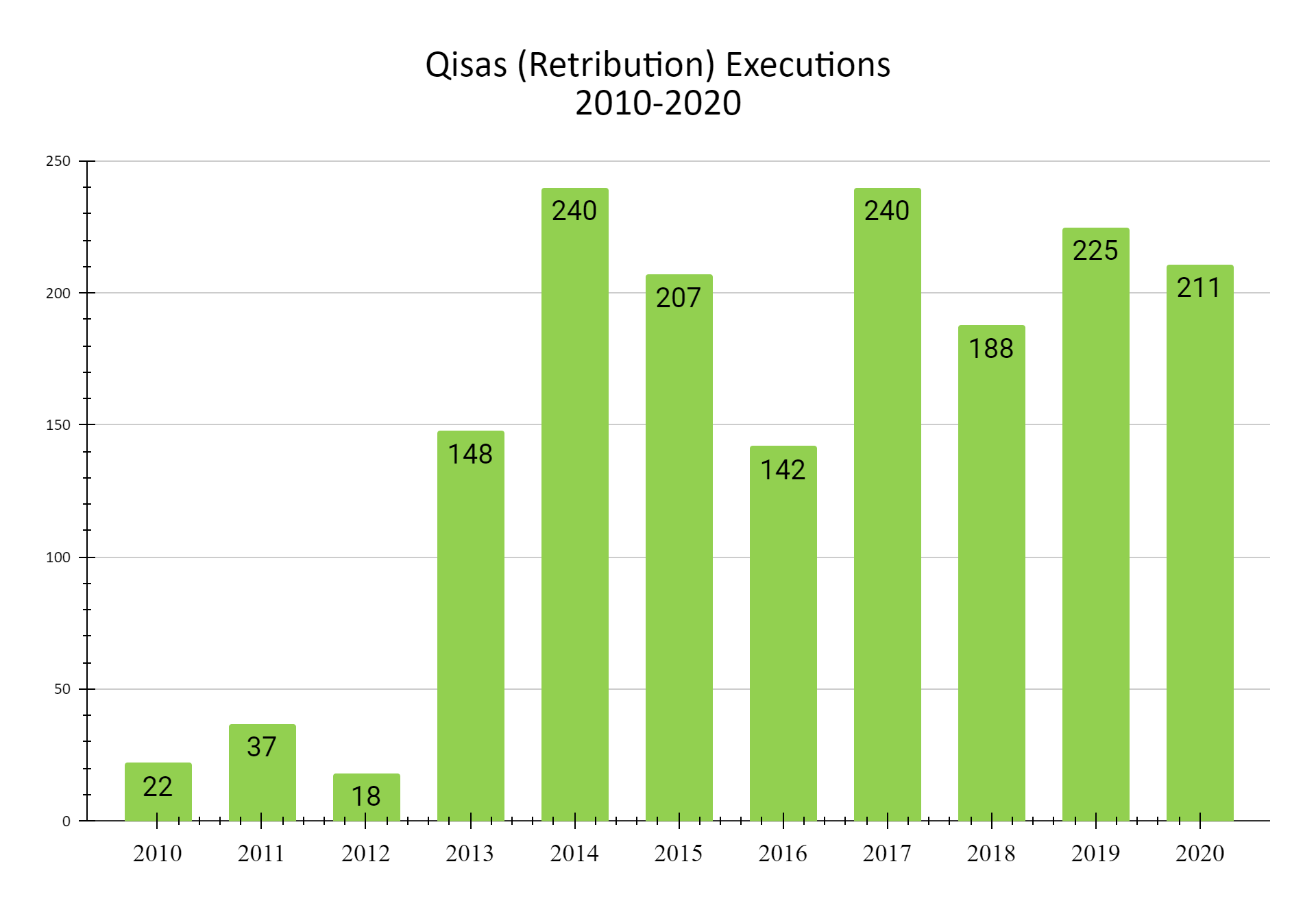 The number of qisas executions, which was relatively low between 2010 and 2012, increased dramatically in 2013 and has remained at a significant level since. This coincides with growing international criticism of Iran's drug-related executions. In 2020, at least 211 people were subjected to qisas executions, which remains one of the highest counts in the last 11 years.
Rajai Shahr Prison: the qisas capital
The detailed geographical distribution of qisas executions will be provided under the section "Forgiveness Movement" of this report. However, reports in the last 6 years demonstrate that each year, a significant portion of all qisas executions were carried out in one single prison in the Alborz/Tehran area. In addition, Rajai Shahr prison (previously known as Gohardasht) has been the site of the execution of many political prisoners, particularly those belonging to banned Kurdish political parties. In 2020, at least 54 qisas sentences were carried out in Rajai Shahr prison. This accounts for 25% of all qisas executions in Iran.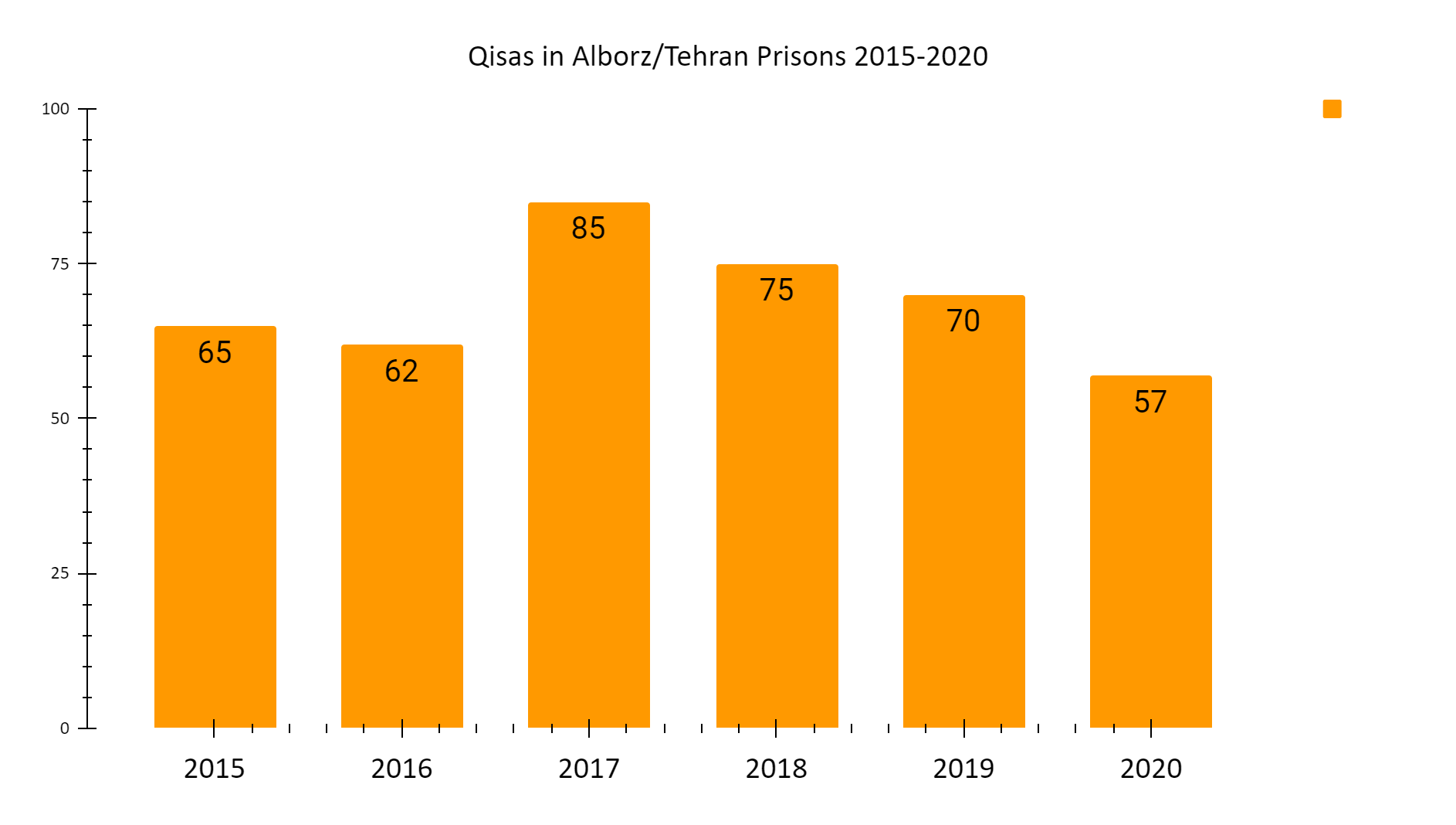 The diagram above shows the number of implemented qisas death sentences in Alborz/Tehran prisons since 2015. The majority of qisas executions are carried out in Rajai Shahr Prison, situated in Alborz Province. 54 out of 57 qisas executions in Alborz province took place in Rajai Shahr Prison.
Qisas executions in 2020
The 211 qisas executions in 2020 include a variety of cases, the majority of which involve defendants being denied their rights to due process and a fair trial.
Ahad Salehi: hung in his wheelchair
28 year-old Ahad Salehi was shot by the police during his arrest, injuring his spinal cord and confining him to a wheelchair. He was sentenced to qisas and was hanged while sitting in his wheelchair on 29 February 2020, in Mashhad Central Prison.[1]
Hamidreza Ashgharpour-Masouleh: the case of qassameh
Hamidreza Ashgharpour-Masouleh was arrested and charged with the murder of his wife. With no hard evidence and despite his denial, Hamidreza was sentenced to death by qassameh (sworn oath). According to an informed source: "He was charged with his wife's murder but there were doubts as to it even being a murder. The forensic pathologist had first ruled that she had died of natural causes and that the bruises on her body were caused by the ambulance team trying to resuscitate her. But they later changed their minds. The court sentenced him to death through a qassameh ceremony." Hamidreza was executed in Rajai Shahr Prison on 22 April 2020 along with 6 other prisoners.[2]
Hamid: the homeless man arrested for stealing electric cables
A prisoner only identified as Hamid, 29, and homeless, was arrested on 26 April 2016 on charges of stealing electric cables in Arak, and sentenced to imprisonment. He later "confessed" to two murders during interrogations and was sentenced to qisas. Though the exact date of his execution is not known, on 28 February 2020, it was reported that he had been executed at Ghezel Hesar Prison.[3]
The forgiveness movement
According to the IPC, murder is punished by qisas, where the family of the victim can demand a retribution death sentence. But they can also demand diya (blood money) instead of a death sentence or can simply grant forgiveness.
IHR has collected forgiveness reports since 2015. Altogether, the reports gathered in the past 4 years show that the families of murder victims who chose forgiveness or diya for murder convicts outnumber those who chose the death penalty.[4]
For the sake of simplicity, we will use the term forgiveness in the following section, regardless of whether there has been a demand for blood money or not.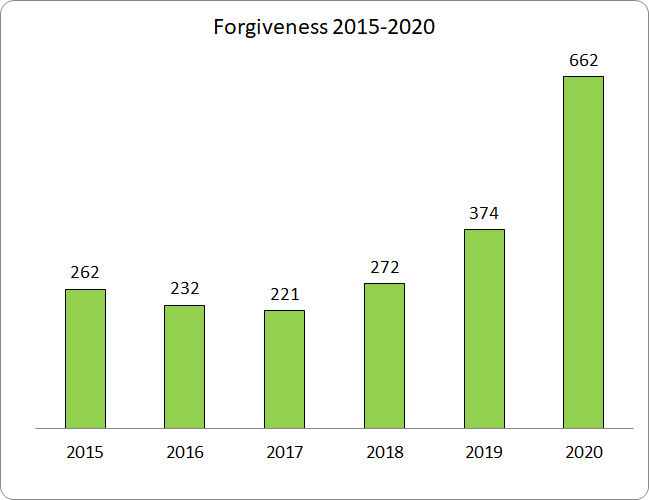 As for the execution numbers, not all forgiveness cases are reported by the Iranian media. Based on reports by the Iranian media and, to a lesser extent, through its own network inside Iran, IHR has identified 662 forgiveness cases in 2020, compared to 374 cases in 2019, 272 in 2018, 221 in 2017, 232 in 2016 and 262 in 2015. Thus, there is a growing trend for forgiveness.
In 2020, the forgiveness cases outnumbered those of implemented qisas executions. The actual numbers for both forgiveness and qisas death sentences are believed to be higher. Reports indicate that the number of forgiveness cases might be several folds higher than the numbers presented in this report.
The increasing trend of forgiveness in Iran correlates with a survey conducted in September 2020 showing the majority of people prefer alternative punishments to the qisas death penalty for murder victims.[5] Iranian authorities assert that qisas is the right of the plaintiff (the victim's family) and that most qisas executions take place upon the plaintiff's request.
However, when questioned about their preferred punishment if an immediate family member was murdered, only 21.5% of respondents chose qisas, while more than 50% preferred alternative punishments such as imprisonment.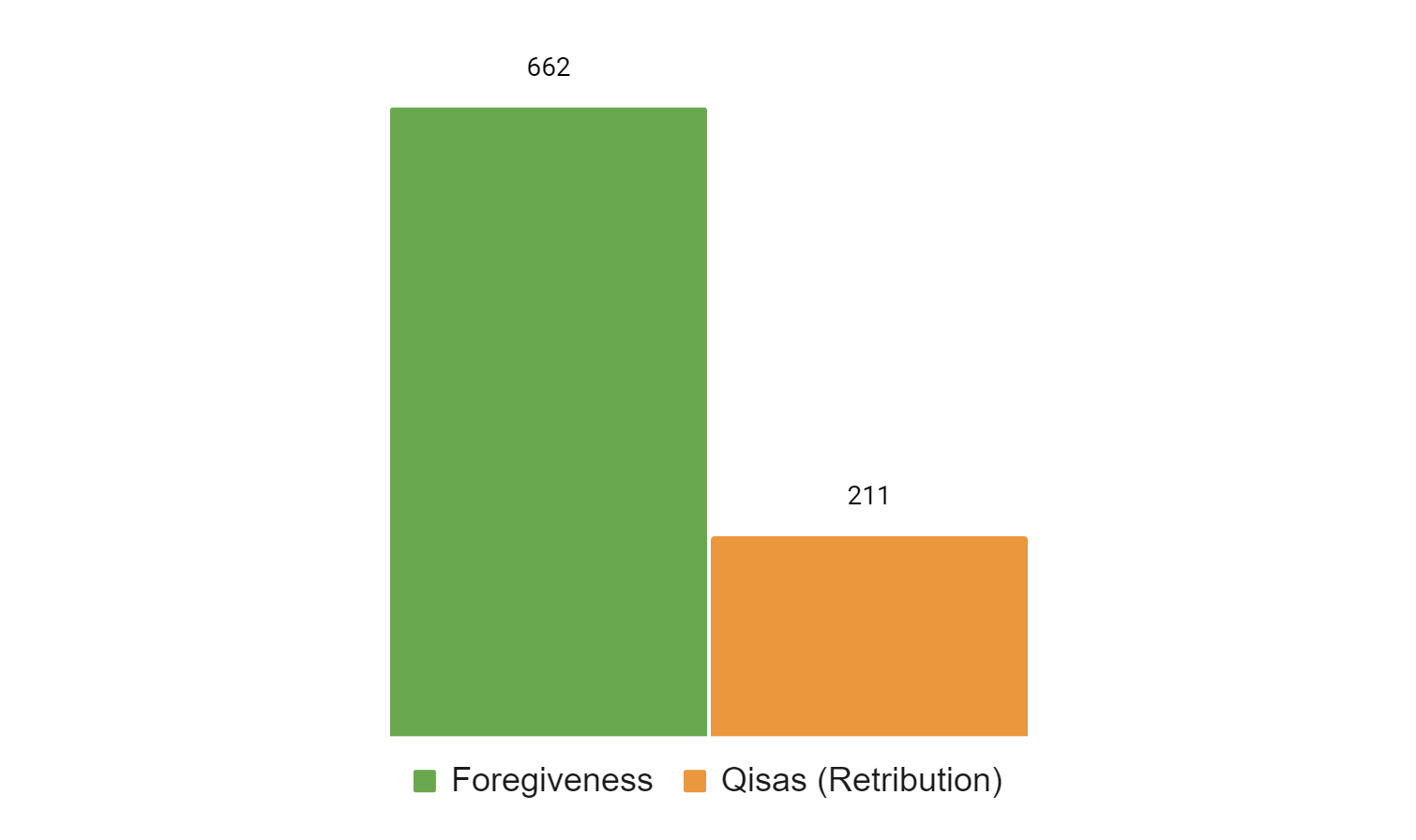 Diagram showing the number of implemented retribution death sentences and forgiveness cases in 2020.
Qisas (retribution) and forgiveness: monthly breakdown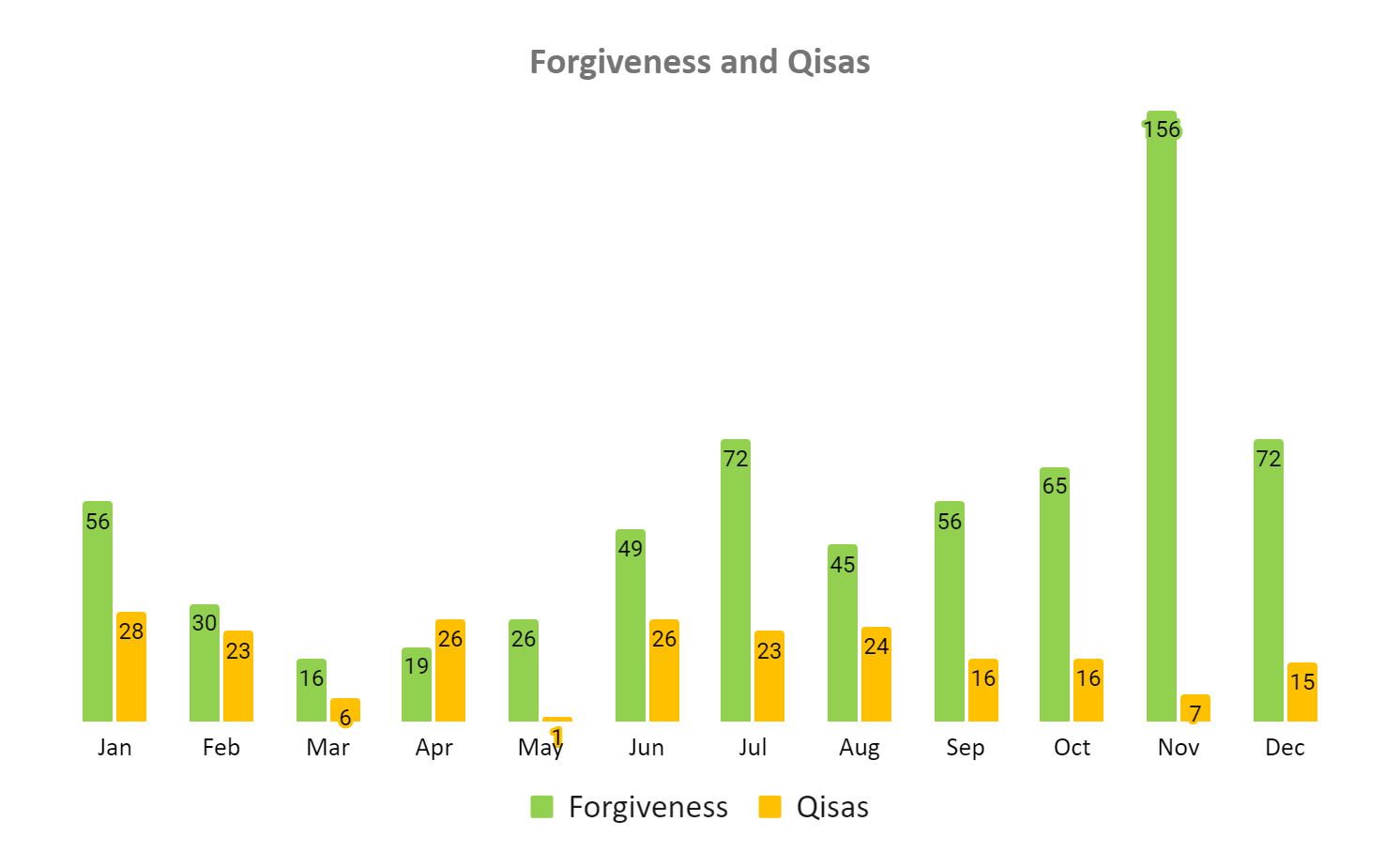 The diagram above shows the monthly breakdown of implemented qisas death sentences compared to forgiveness cases.
Qisas and forgiveness: geographic distribution
In 2020, IHR recorded forgiveness cases in 29 of the 31 provinces in Iran. In comparison, qisas death sentences were reported in 24 of the provinces. In most provinces, the number of forgiveness cases were higher than qisas executions.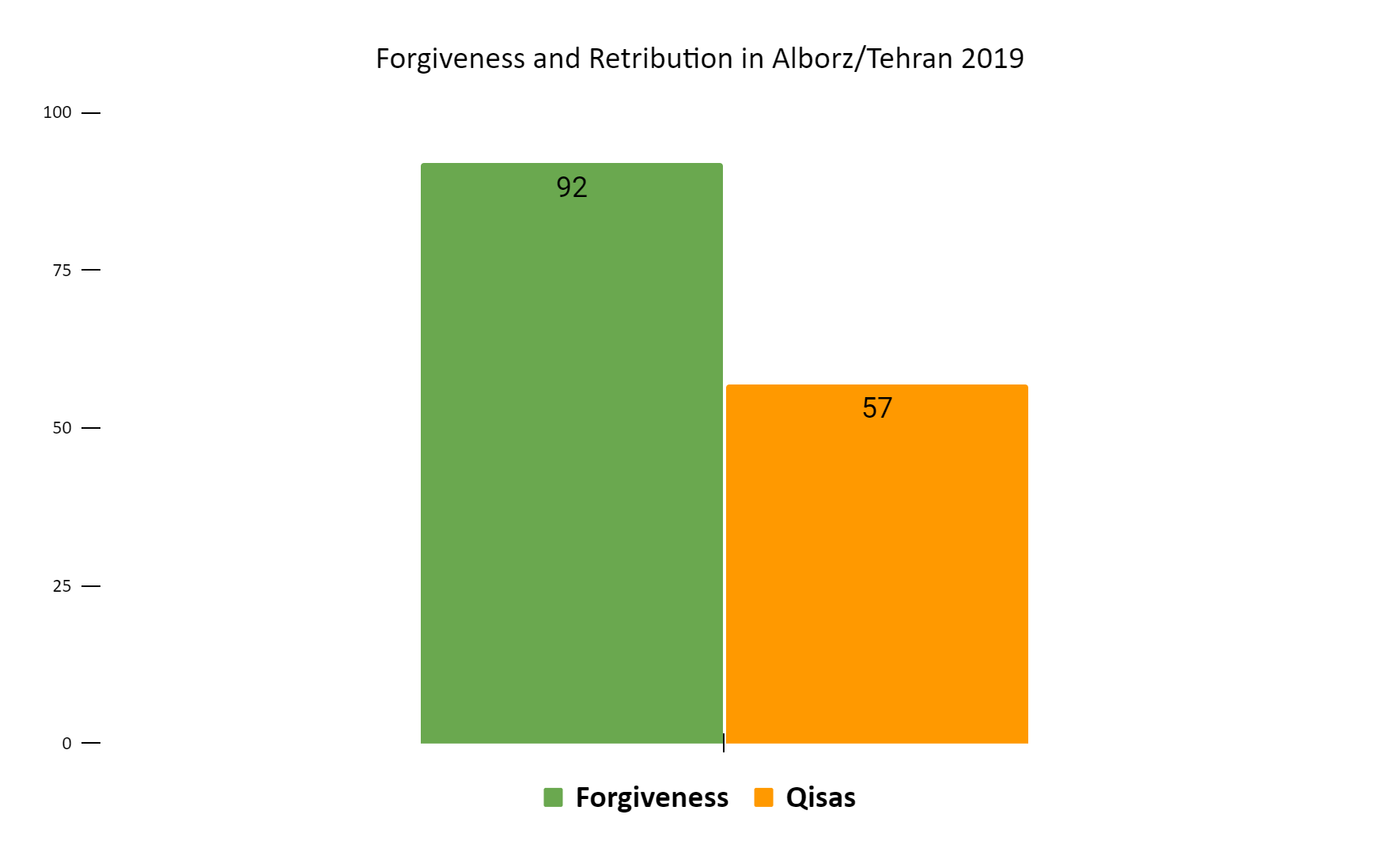 Diagram: Prisons in the Tehran and Karaj (Alborz) area were the sites of the highest number of both forgiveness and qisas cases in 2020 in Iran.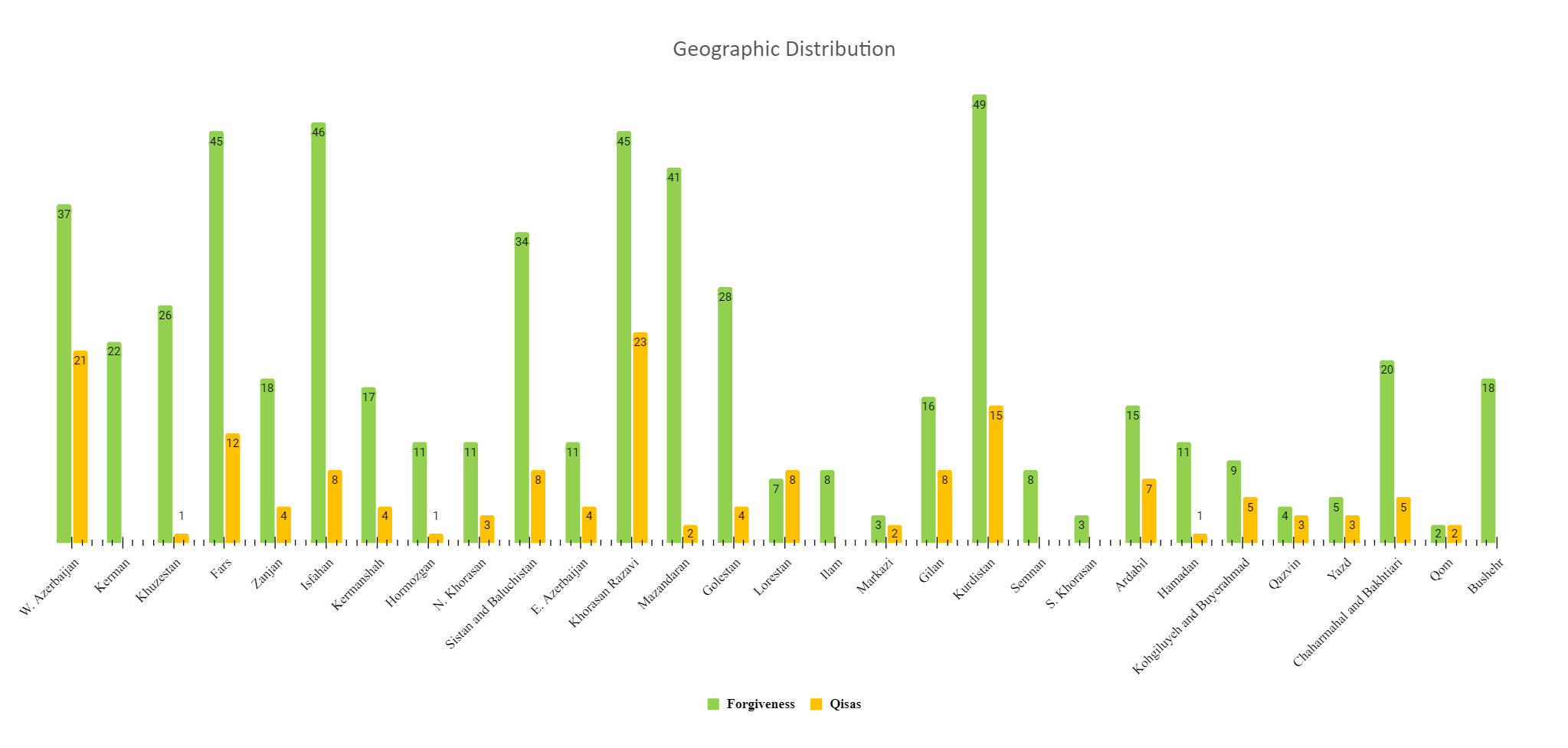 Diagram: The number of implemented qisas executions was higher than or equal to forgiveness only in two provinces, while in the rest of the provinces the forgiveness numbers were either equal or higher than qisas executions.
References
[1] https://iranhr.net/en/articles/4158/
[2] https://iranhr.net/en/eng/articles/4207/
[3] https://davatonline.ir/content/168708/
[4] https://iranwire.com/en/features/4581