Iran Human Rights (IHR); May 3, 2021: According to data gathered by IHR, at least 9 women were executed in 2020. Of the 9 executions, 5 were announced by official sources.
8 of the 9 women executed in 2020 had been sentenced to death on murder charges. There is no information about the 9th woman's case.
Facts:
9 executions carried out, 5 announced by the authorities
An unnamed Afghani national amongst them
8 were sentenced to qisas for murder
Of the 8 known cases, 4 were convicted of murdering their husbands (3) and fiancé (1)
2 were convicted of infanticide
1 suffered from mental illness and had been hospitalised prior to the murders
At least 153 women were executed between 2010-2020
Zeinab Khodamoradi
Born in Qorveh, Kurdistan province in 1979, Zeinab Khodamoradi had spent 5 years on death row for infanticide. While exact details of her case are not available due to the lack of transparency in the judicial system, an informed source told IHR that suffering from acute mental illness, Zeinab had been hospitalised in a psychiatric hospital prior to the murders she was accused of. She was discharged by her husband's consent as is required by Iranian law, against the hospital's advice and wishes. Some time after her discharge, she was arrested for the murder of her newborn baby and her husband's child from a previous marriage.
She had been transferred to solitary confinement in preparation for her execution on 15 October 2020 but had managed to buy a 45-day extension to raise the 700 million Tomans diya (blood money).[1] She was executed in the early hours of 27 December 2020 in Sanandaj Central Prison after her family failed to come up with the required amount.[2]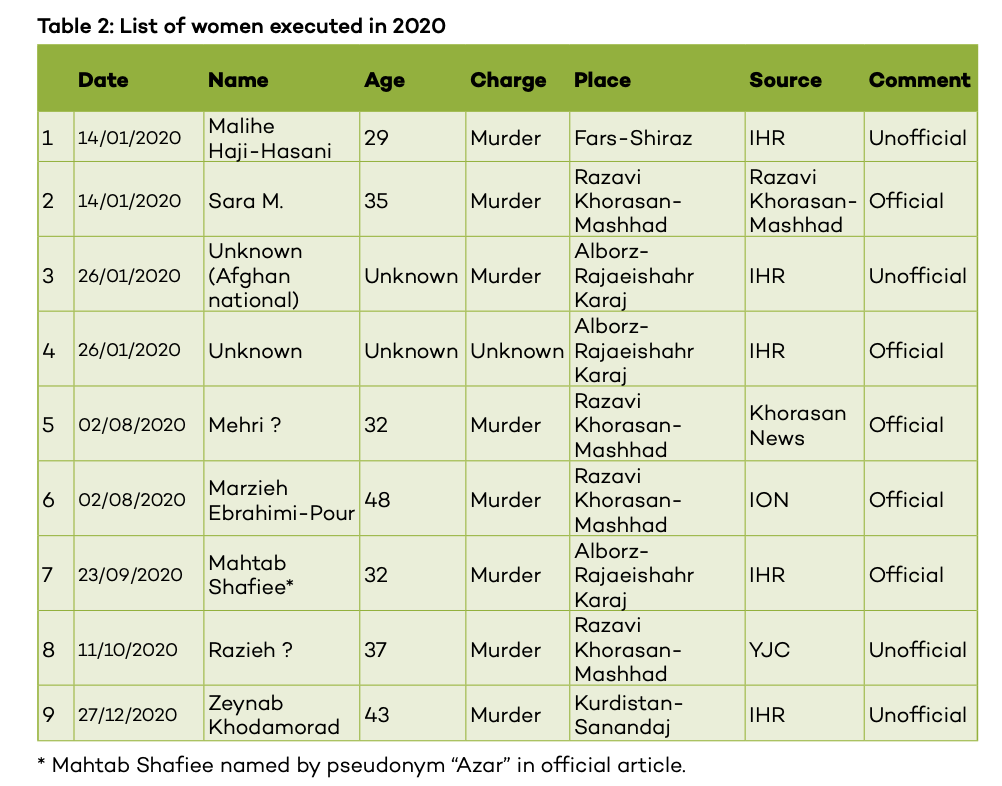 [1] https://iranhr.net/en/articles/4468/