The Islamic Republic has used "televised confessions" as a propaganda tool aimed at creating fear and justifying the heavy sentences handed down to its political opponents and activists, since its inception in 1979. Such confessions are extracted after physical or psychological torture, lengthy solitary confinement, threats or promises of reduction in the gravity of sentence (see reports for previous years' cases).[1] The confessions are often aired following public protests to a sentence, or prior to the execution as a means of reducing public backlash. According to a June 2020 report by rights groups JFI and FIDH, "Iranian state television has broadcast the suspected coerced confessions of at least 355 people over the last decade as a means to both suppress dissent and frighten activists in the Islamic Republic on behalf of security services."[2]
On 1 September 2020, IHR published court documents proving that protester Navid Afkari and his brothers and co-defendants, Habib and Vahid, were tortured, coerced to force confessions and then sentenced to death despite repeatedly reporting this to the judge and the court.[3] On 5 September, the Islamic Republic of Iran Broadcasting (IRIB) aired excerpts of Navid's forced confessions to refute the evidence and justify its actions, and transferred the brothers to punitive wards.[4] Navid was executed on 12 September,[5] Vahid and Habib have been held in solitary confinement since 5 September.[6]
Forced confessions are also often aired before legal proceedings have even started and are later used as evidence by judges as the basis of their decisions. In October 2019, days following his arrest and extradition from Iraq, dissident journalist Ruhollah Zam's forced confessions were aired on IRIB. IRIB reporters have also crossed boundaries and acted as interrogators. In another aired confession, Ali Rezvani is seen interrogating a visibly exhausted and dishevelled Zam, who was executed on 12 December.[7]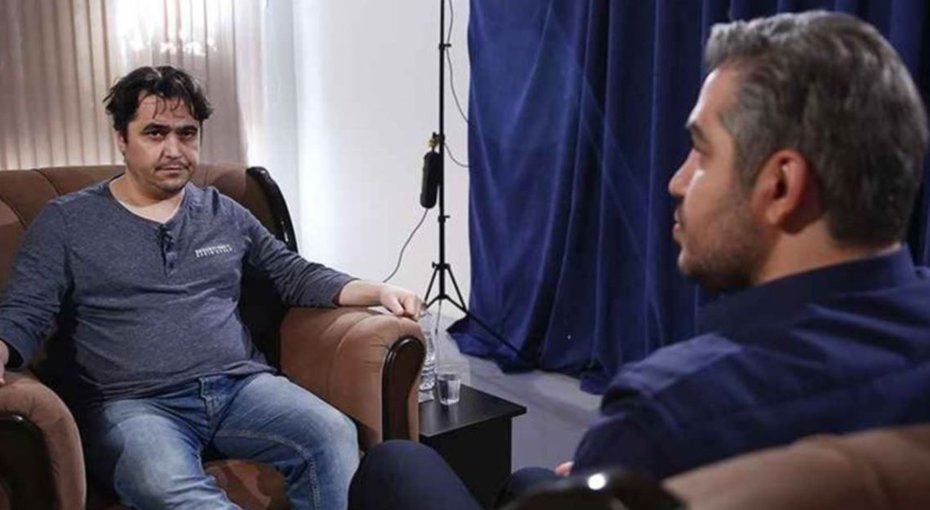 Picture: Behind the scenes of Ruhollah Zam's televised "confessions". IRIB's Ali Rezvani sitting in front of Zam with his back to the camera. Ruhollah Zam was executed two months later. (Photo: Tasnim)
A complaint was also made against IRIB's Ameneh Zabihpour by workers' rights activist Sepideh Gholiyan, for her role in the production of a so-called documentary which aired forced confessions of Sepideh, Esmail Bakhshi and other activists in December 2019. Her case was dismissed and Sepeideh was herself charged for making the complaint.[8] Sepideh remains in prison. In response, Iranians took to social media to make their voices heard with the hashtag #بازجو_خبرنگار ("journalist interrogator"), referring to both Ali Rezvani and Ameneh-Sadat Zabihpour.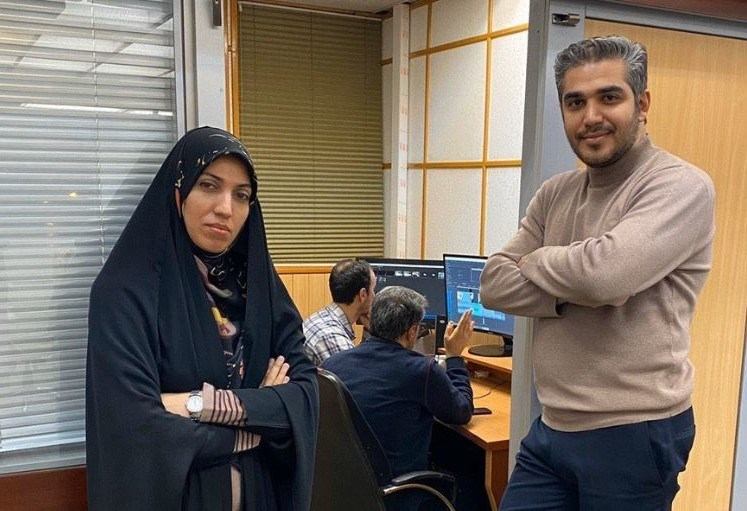 Picture: Ameneh Sadat-Zabihpour and Ali Rezvani, IRIB's reporters, labelled as "journalist-interrogators" (Social media).
On 30 January 2020, 13 human rights groups including IHR and ECPM urged the European Union to adopt restrictive measures against Iran's state broadcaster (IRIB) and its officials for producing and broadcasting forced confessions of dissidents, often used in court as incriminating evidence. The rights groups signing the statement said that their concern is "Compounded and rendered more urgent by the fact that in the framework of the widespread waves of crackdowns and mass violations of human rights in Iran observed during recent unrests and uprisings in November 2019, many detainees identified by the authorities as alleged leaders face the risk of forced televised confessions, and the content being used against them for harsh sentences, even risking the possibility of facing the death penalty." According to this statement, since the November 2019 nationwide protests, the IRIB has already broadcasted at least 22 forced televised confessions that they obtained from detainees.[9]
The IRIB's English and French channel, Press TV, was "The producer and broadcaster of the largest number of forced confessions and defamatory programmes against Iranian activists and civil society": at least 70 have been documented by JFI over the past decade.[10]
References:
[1] https://iranhr.net/en/reports/#/
[2] https://apnews.com/article/2f5e336cb7f96c2829a98a522f705855
[3] https://iranhr.net/en/articles/4406/
[4] https://iranhr.net/en/articles/4418/
[5] https://iranhr.net/en/articles/4427/
[6] https://iranhr.net/en/articles/4579/
[7] https://iranhr.net/en/articles/4527/
[8] https://en.radiofarda.com/a/iran-activist-charged-for-accusing-tv-reporter-in-forced-confessions-case/30426148.html
[9]https://iranhrdc.org/thirteen-human-rights-organizations-ask-the-european-council-to-take-restrictive-measures-against-the-irib-and-individuals-involved-in-obtaining-forced-confessions/
[10] https://www.barrons.com/news/iran-must-end-forced-confessions-of-prisoners-on-tv-rights-groups-01593072307?tesla=y